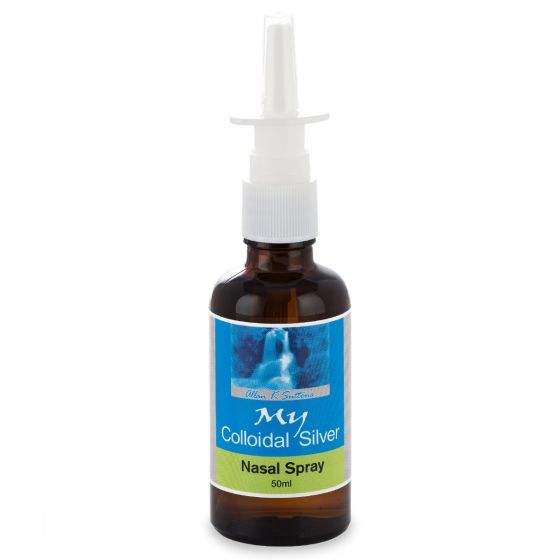 Allan K Sutton My Colloidal Silver Nasal Spray 50ml
Sold out
Original price
$17.95
-
Original price
$17.95
My Colloidal Silver is an ionic formulation. Manufactured from 99.9% fine silver, suspended in purified water. Alkalinity above 8.5 pH. Free from chemicals, additives and preservatives. 
Ingredients: Filtered Pure New Zealand Water, Silver ions above 30ppm mg/l
My Colloidal Silver Is a powerful, non toxic, natural food supplement, of ultra fine particles of silver suspended in pure water that has been shown to support the immune system. No chemicals or preservatives should be used in good quality colloidal silver. To preserve product integrity and quality it is preferable if colloidal silver is stored in glass (not plastics or pet bottles), never in sunlight, and away from all magnetic fields (such as fridges). The size of the particles in suspension (not the strength or high ppm), and the aliveness and purity of the water all contribute to a quality product. All colloidal silvers are not the same.
Dosage:
Colloidal Silver can be taken orally and it can be sprayed or applied topically.
When using Colloidal Silver, drink AT LEAST 1 litre of water daily to aid the flushing process.
ORAL DOSES: At all times, colloidal silver doses are best held under the tongue for 30-60seconds before swallowing.
To maintain good health and assist in preventing viral and bacterial infections -
Adults: 15-20ml daily
Children under 12: 5-10mls daily
To treat illness and infection -
Adults: 25-30mls hourly
Children under 12: 10-15mls hourly
CONDITIONS FOR WHICH COLLOIDAL SILVER HAS PROVEN SUCCESSFUL:
Stomach upsets, nausea, vomiting, travellers diarrhoea, wounds, rashes, ulcers, burns, psoriasis, red, sore eyes due to allergies or infections such as conjunctivitis, infections of the ears, nose and throat, prevention during air travel, candida, urinary tract infections, dental health (infections, gingivits, bad bread), use around the home as a natural cleaner/disinfectant in kitchens and bathrooms, odour eliminator in the fridge, can be added to drinking water for purification (20ml/ litre is suggested), use on pets for their overall immune system health, skin inflammation and body odours.