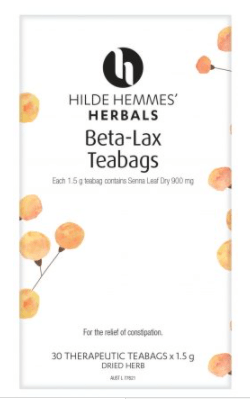 Beta-Lax - 30 Teabags
Original price
$14.40
-
Original price
$14.40
Arabian physicians in the 9th century favoured senna as a treatment for constipation. Today, senna is well-known as a scientifically-based, effective laxative. In this therapeutic teabag, senna with soothing camomile, peppermint and fennel have been included to ensure a gentle laxative action.
ORAL USE
Active ingredient: Each 1.5 g teabag contains Senna Leaf Dry (Cassia angustifolia and / or Cassia senna) 900 mg
Non-active ingredients: Each teabag also contains Peppermint Leaf Dry (Mentha X piperita), Fennel Bitter Seed Dry (Foeniculum vulgare), Matricaria Flower Dry (Matricaria recutita).
Indications: This product has been specially formulated to help relieve constipation. Senna Leaf has a long history of use as a stimulant laxative. The herbs Peppermint Leaf, Matricaria Flower and Fennel Bitter Seed have been included to help provide a gentle action and pleasant flavour.
Directions for use: Infuse 1 teabag (1.5 g) in 250 mL (one cup) of boiling water, steep for ten minutes before removing teabag. Adults - drink 1 cup daily before bedtime. Recommended duration of use is 2 weeks.
WARNINGS
Always read the label. Follow the directions for use.
If symptoms persist, talk to your health professional.
Drink plenty of water. Prolonged use may cause serious bowel problems. Do not use while breastfeeding or if pregnant or likely to become pregnant. Do not use when abdominal pain, nausea or vomiting are present or if you develop diarrhoea. Use in children under 12 years is not recommended.