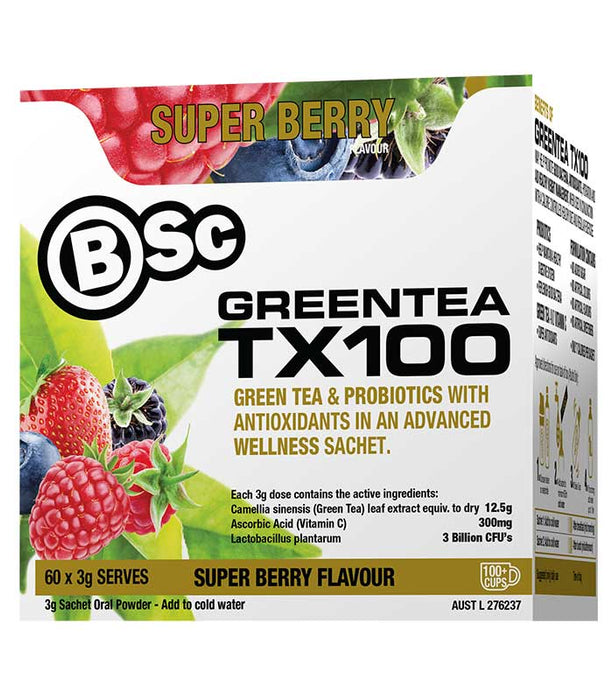 Body Science Green Tea TX100 Super Berry 60 Sachets
Sold out
Original price
$54.95
-
Original price
$54.95
Boost your energy, metabolism and fat burning with this delicious, all-natural blend of green tea extract, gut friendly probiotics and powerful antioxidants. Our best-selling Green Tea TX100 is the perfect daily pick-me-up to help you achieve your health and fitness goals faster.


If you're looking to kick-start your health and fitness journey or keep your goals on track, Green Tea TX100 is the delicious and refreshing way to boost your daily energy, metabolism and fat burn. Plus it's packed with antioxidants and gut-friendly probiotics to keep you looking and feeling your very best.
In each serving, you'll get:
12.5 grams of Green tea leaf extract to help increase your metabolic rate, optimise your fat loss and provide antioxidant support,
300 mg of immune boosting, antioxidant rich Vitamin C to help you manage the stressors of everyday life
3 billion CFUs of Lactobacillus plantarum, a powerful probiotic to enhance gut health
SUPPORT YOUR HEALTH & FITNESS GOALS
Green tea has been used throughout history across the globe for its health and vitality benefits, thermogenic effects. Plus it is rich in antioxidants that help prevent cell damage, reduce inflammation and fight free radicals that are known to play a role in aging and other diseases. Green Tea TX100 is a potent green tea supplement which provides the nutritional benefits of 100 cups of green tea, making it a daily booster that can benefit anyone, regardless of your health and fitness goals.

BOOST METABOLISM
Packed full of natural fat burning thermogenic benefits, Green Tea may increase fat burning, boost metabolic rate and enhance your body's ability to mobilize fatty acids to be burnt during exercise. If you're looking for a natural and powerful way to slim down or get the most out of your weight loss efforts, Green Tea TX100 is the perfect support to your diet and exercise plan.

ENHANCE ALL-DAY ENERGY
The perfect pick-me-up, Green Tea TX100 is your healthy alternative to sugar-laden energy drinks, without the nasty preservatives, artificial flavours and colours. Delicious and refreshing, it enhances your energy and vitality, providing a great tasting, satisfying energy boost for less than 10 calories. 

INNER WELLNESS
There is a strong link between our gut health, immunity and the absorption of essential nutrients from the food we eat. That's where probiotics come into play – the powerful microorganisms that help keep the digestive tract healthy. Each daily serve of Green Tea TX100 contains more than 6 billion good bacteria to help support your digestive function and enhance immunity.

With all the health benefits of a super charged dose of green tea, plus immune boosting probiotics and antioxidants, let Greentea TX100 energise and revitalise you. Withe only 7 calories per sachet, no added sugar, no artificial colours, flavours or sweeteners and it's available in lots of amazing flavours. A great inclusion in any weight management, training or health regime, it's the perfect pick me up to help you become the healthiest version of yourself!