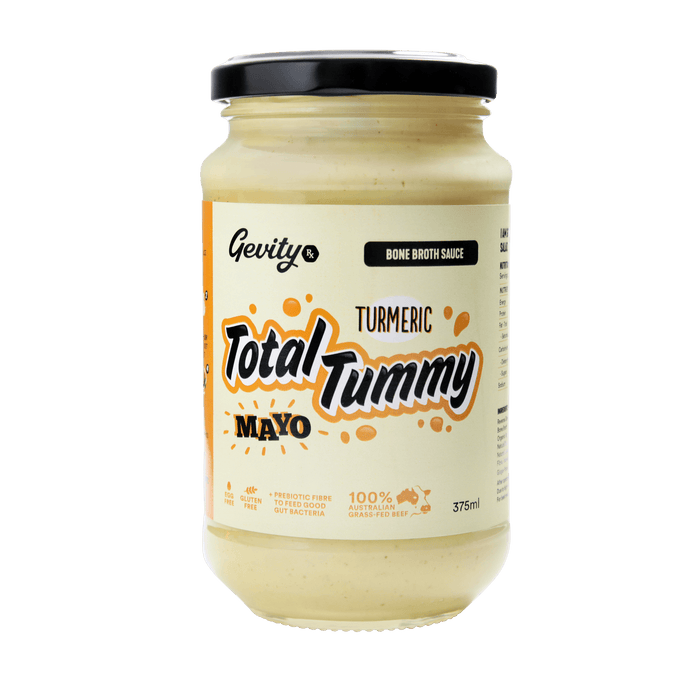 Bone Broth Sauce - Total Tummy Tumeric Mayo
Original price
$18.10
-
Original price
$18.10
Total Tummy Turmeric harnesses the healing powers of our traditional mayo and supercharges it with anti-inflammatory superfood, Turmeric, to support and repair. Delightfully thick and creamy, Total Tummy also contains immune-boosting goodness from lemon and ginger, creating a deliciously savoury twist on everyone's favourite sauce.
Dollop on vegetables, salad, chicken or fish. Use just as you would any mayo - on anything you like! A colourful dipping sauce or salad dressing. Nourish bowls never looked so good!

Ingredients:
Reverse Osmosis Water, Organic Extra Virgin Olive Oil, Meadow & Marrow Bone Broth Concentrate (Grass-Fed Beef Bones, Sea Salt) (16%), Organic Apple Cider Vinegar, Chicory Root Fibre (Prebiotic),  Natural Sea Salt, Coconut Milk Powder, Psyllium Husk, Natural Lemon Juice Concentrate, Natural Mustard Powder, Guar Fibre, Natural Garlic Powder, Organic Turmeric Powder, Natural Ginger Powder.