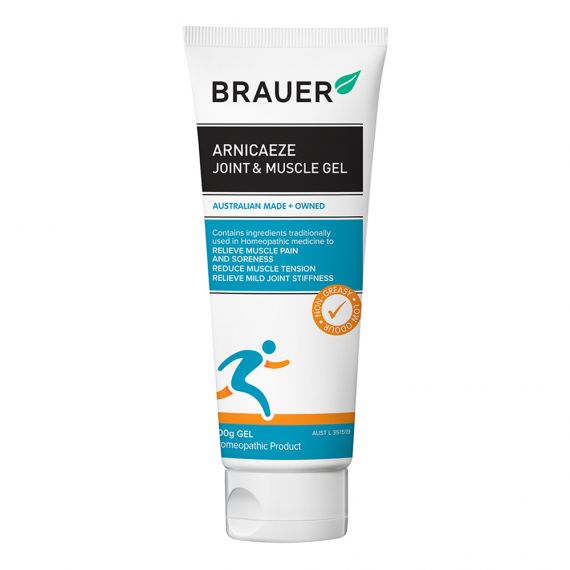 Brauer Arnicaeze Joint & Muscle Gel 100g
Original price
$21.55
-
Original price
$21.55
Arnicaeze Joint & Muscle Gel for muscular pain, cramps and spasms contains ingredients traditionally used in homeopathic medicine to help relieve muscular aches, pains, cramps and spasms, and the symptoms of sprains, fibromyalgia and tenosynovitis. Also traditionally used for the temporary relief of arthritis pain and inflammation. The non-greasy, odourless gel is quickly absorbed, so it won't stain your clothes.
Adults and children: Apply generously, massage into the affected area and repeat as necessary. If symptoms persist, see your healthcare professional. For external use on unbroken skin only. If sensitivity develops, discontinue use.
Each gram contains 26 mg of each of Arnica 1X, Bellis per. 1X and Ledum 1X and 2 mg of each of Apis mel. 1X, Belladonna 2C, Bryonia 1X, Camphora 2C, Hypericum 1X, Kalmia 1X, Ranunculus bulb. 1X, Rhus tox. 3X,Ruta grav. 1X, Strontium carb. 5C and Symphytum 12X.
Getting the most out of this
Gently massage the gel into the affected areas.
Store in a cool place away from direct sunlight and from perfumes, disinfectants or other strong-smelling substances.
If you are pregnant, check with your healthcare professional before using any medicines.
Healthy hints
Try these simple ideas to help prevent sore, crampy muscles:
Gradually increase your level of fitness rather than pushing yourself too hard before you are ready.
Drink plenty of water before, during and after you exercise. Dehydration can result in muscle cramps.
Make warming-up, warming-down and regular stretching part of your fitness routine.
The right balance of minerals can help to prevent muscle cramps, so eat a varied diet with lots of wholegrains, fruit and veggies.
Treat yourself to a massage to help reduce muscle tension.