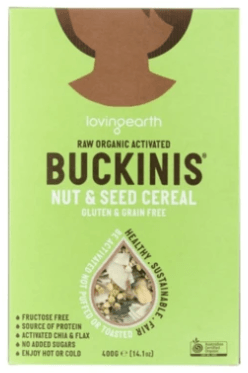 Buckinis - Nut & Seed Cereal (400g)
Original price
$13.95
-
Original price
$13.95
WHAT IS IT? 
This cereal is a combination of our Buckinis with Coconut Chips, activated sunflower seeds, Cashews, Brazil Nuts, flax seeds, Pumpkin Seeds and Chia Seeds - loaded with all of the nuts and none of the fruit!
HOW TO USE IT: 
Enjoy your Buckinis all year round! In winter - add 1/2 cup Buckins to 3/4 cup of your favourite milk and gently heat on the stove top. In summer - add your favourite milk or yogurt and pile on the seasonal fresh fruit.
INGREDIENTS
ACTIVATED BUCKWHEAT*, COCONUT CHIPS*, ACTIVATED SUNFLOWER SEEDS*, NUTS* (7%) (ACTIVATED CASHEWS*, ACTIVATED BRAZIL NUTS*), ACTIVATED FLAX SEEDS*, ACTIVATED PUMPKIN SEEDS*, ACTIVATED CHIA SEEDS*. *CERTIFIED ORGANIC
CONTAINS TREE NUTS. NOT SUITABLE FOR PEOPLE WITH TREE NUT ALLERGIES.
MADE IN AUSTRALIA FROM LESS THAN 10% AUSTRALIAN INGREDIENTS