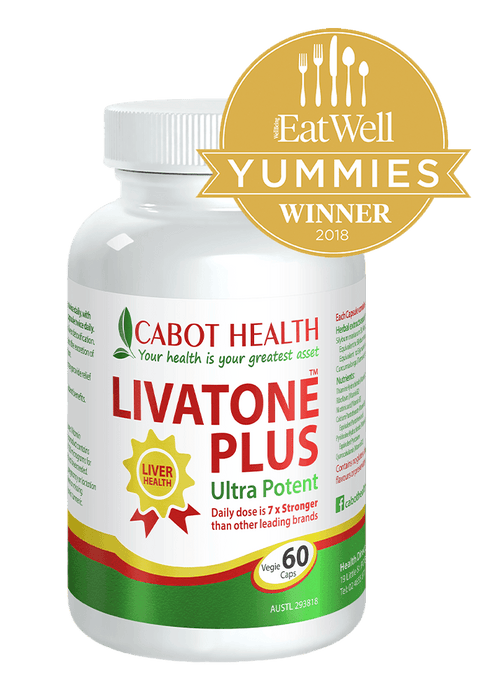 Cabot Health LivaTone Plus 60 Capsules
Original price
$35.00
-
Original price
$35.00
LIVATONE PLUS
Our bestselling, multi-action formula that has been used and trusted by people across the world for more than 20 years! Specially formulated to contain as many active, liver-loving ingredients as possible, to provide the liver with maximal support. This comprehensive and unique formulation is designed to support and strengthen detoxification pathways. It could assist the liver in repairing and regenerating itself. LivaTone Plus supports optimal digestive and gallbladder function.

The benefits of LivaTone Plus: Traditionally used in European herbal medicine to:
- maintain and support natural liver detoxification processes
- relieve abdominal bloating and distention
- promote healthy gallbladder function
- help improve bile secretion
- help enhance/promote healthy liver function
- maintain and support healthy liver regeneration
- to protect the liver
- reduce and relieve symptoms associated with occasional overindulgence

Dosage:
Adults: 1-2 capsules, twice daily with or without food.May begin with two capsules daily and can increase the dose to 4 capsules daily if needed.

Children: 1 capsule, twice daily with or without food.
Cautions and contraindications:
Formula not recommended during pregnancy or lactation.

Vitamin supplements should not replace a balanced diet. Always read the label. Use only as directed. If symptoms persist, consult your healthcare practitioner.

This product contains selenium which is toxic in high doses. A daily dose of 150 micrograms, for adults, of selenium from dietary supplements should not be exceeded.
Each capsule contains:                                                   
| | |
| --- | --- |
| Herbal extract equivalent to dry: |   |
| Silybum marianum (St Mary's Thistle) fruit extract (equiv. to Silybum marianum fruit)      |     9.1875 g |
|                            (equiv. to Silymarin - flavanolignans calculated as silybin) | 105.0 mg |
| Curcuma longa (Turmeric) rhizome extract | 375 mg |
| Nutrients: |   |
| Thiamine Hydrochloride (Vitamin B1) | 2.50 mg |
| Riboflavin (Vitamin B2) | 2.50 mg |
| Nicotinic acid (Vitamin B3) | 5.00 mg |
| Calcium Pantothenate (Vitamin B5) (equiv. to Pantothenic acid 4.58 mg) | 5.00 mg |
| Pyridoxine Hydrochloride (Vitamin B6) (equiv. to Pyridoxine 2.06 mg) | 2.50 mg |
| Cyanocobalamin (Vitamin B12) | 25 mcg |
| Calcium Ascorbate (equiv. to Ascorbic acid (Vitamin C) 25 mg) | 30.26 mg |
| d-alpha-tocopheryk acid succinate (equiv. to Vitamin E  25 IU) | 20.66 mg |
| Calcium Folinate (equiv. to folinic acid 100 mcg) | 138.89 mcg |
| Selenium (as selenomethionine) | 37.5 mcg |
| Taurine  | 150 mg |
Vegetable capsule