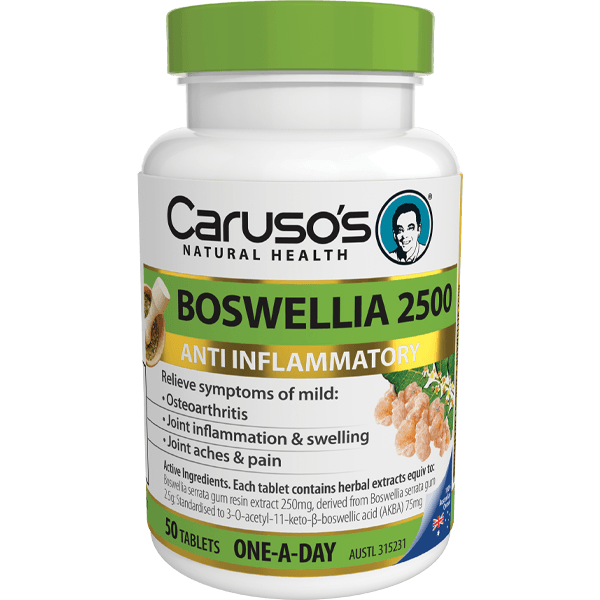 Caruso's Boswellia 2500 - 50 Tablets
Original price
$49.95
-
Original price
$49.95
Caruso's Boswellia 2500 can provide support for joint and cartilage health, and help to relieve symptoms of mild osteoarthritis and joint inflammation. The benefits of Boswellia come from a group of active components contained in the herb known collectively as Boswellic acids. The specific type of Boswellic acid used in Caruso's Boswellia 2500 is known as 3-O-acetyl-11-keto-β-boswellic acid (AKBA). It can assist with inflammation, and mild joint pain and stiffness associated with mild osteoarthritis.

Always read the label and follow the directions for use. If symptoms persist, worsen or change unexpectedly, consult your health professional. Not recommended for use by pregnant or lactating women.  Adults only.

Active Ingredients. Each tablet contains:
Allium sativum (Black Garlic) extract
equiv. to fresh bulb……..9.6g (9600mg)
Standardised to S-Allyl cysteine (SAC) .., 600mcg

Directions:
Adults take 1 tablet daily with food or as advised by your health professional. Dose may be increased to 2 tablets daily for more intensive use.