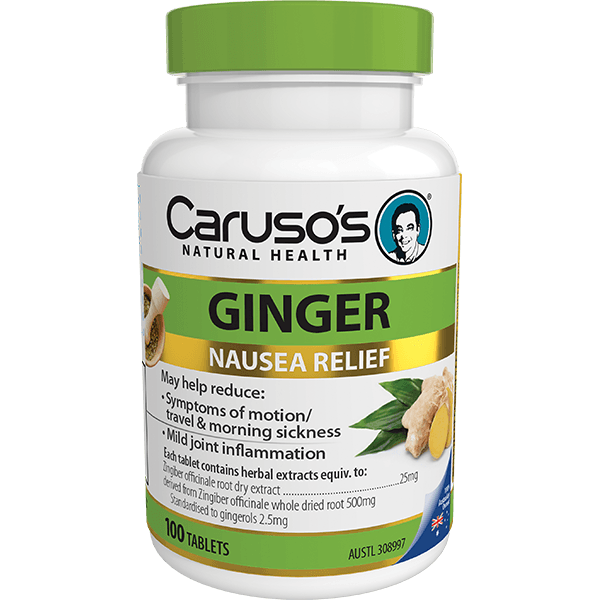 Caruso's Ginger - 100 Tablets
Sold out
Original price
$22.95
-
Original price
$22.95
Caruso's Ginger utilises a specific ginger extract containing 2.5mg of the active constituents gingerols. Gingerols have an anti-inflammatory action which may help to relieve symptoms associated with mild Osteoarthritis such as joint pain, stiffness and swelling. The anti-inflammatory action has also been shown to help reduce period pain and cramping.

Active Ingredients. Each tablet contains herbal extracts equiv. to:
Zingiber officinale root dry extract (Ginger)………….…25mg
derived from Zingiber officinale whole dried root 500mg
Standardised to 2.5mg gingerols

Directions:
For nausea and travel sickness: Adults and children over 12 take one tablet when required with food up to four times daily.
Children 6-12 years take half a tablet half an hour before travelling or when required with food up to four times daily.
For morning sickness: Adults take one tablet with food when required up to four times a day.
For symptoms of mild Osteoarthritis and period pain: take two tablets daily with a meal or advised by your healthcare professional.
Always read the label. Follow the directions for use. If symptoms persist, worsen or change unexpectedly, talk to your health professional.