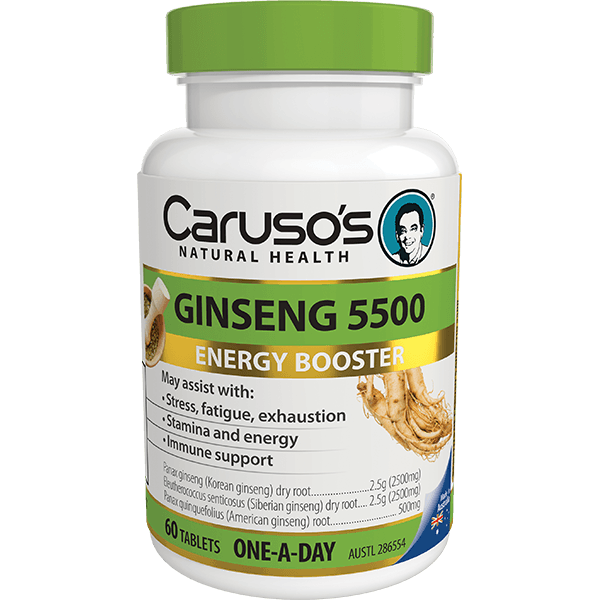 Caruso's Ginseng 5500 - 60 Tablets
Original price
$37.00
-
Original price
$37.00
Caruso's Ginseng 5500 contains herbal extracts of 3 Ginseng plants which have been used in Traditional Chinese Medicine (TCM) as rejuvenating and restorative tonics that help to promote general health and wellbeing. Ginsengs have nervine and adaptogenic properties which support the nervous system by increasing both body and mind relaxation while additionally helping to increase vitality. Caruso's Ginseng 5500 contains Korean ginseng, Siberian ginseng and American ginseng to compliment one-another in maintaining vitality, energy levels, physical endurance and cognitive performances. This special combination of ginseng herbs also helps to relieve feelings of fatigue, stress, irritability and nervous tension.

Active Ingredients. Each tablet contains herbal extracts equiv. to:
Panax ginseng (Korean ginseng) dry root........................ 2.5g (2500mg)
Standardised to Ginsenosides 62.5mg
Eleutherococcus senticosus (Siberian ginseng) dry root ....2.5g (2500mg)
Standardised to Syringaresinol diglucosides 1.33mg
Panax quinquefolius (American ginseng) dry root.......................500mg
Standardised to Ginsenosides 7.5mg

Directions:
Adults: Take 1 tablet daily with food or as advised by your health professional. Always read the label and follow directions for use. If symptoms persist, worsen or change unexpectedly, talk to your health professional.