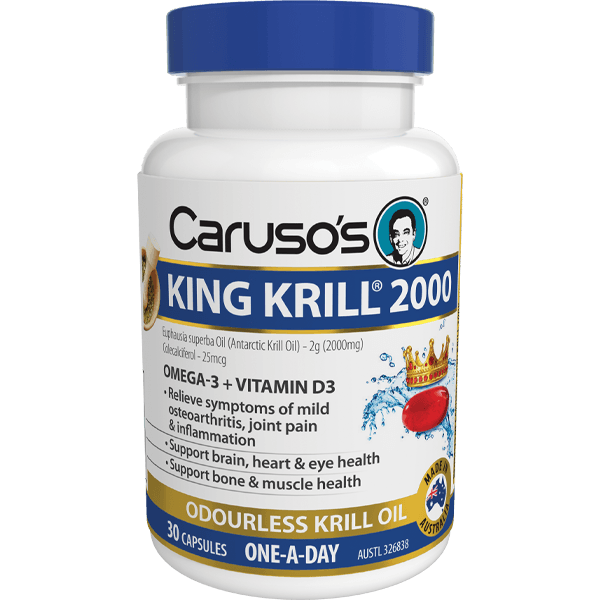 Caruso's King Krill 2000mg - 30 Capsules
Original price
$62.00
-
Original price
$62.00
Caruso's King Krill 2000 is a high potency supplement formulated for any adult who wishes to take a convenient one-a-day high dose of Omega-3 Fatty Acids with the added benefits of Vitamin D3. Caruso's King Krill 2000 contains a high quality blend of both Krill oil and Vitamin D3 at the highest dose of Krill oil - 2000mg.

The Omega-3 Fatty Acids in Krill oil may provide benefits to the cardiovascular system and maintain eye health, neurotransmission and brain health. Krill oil supports overall joint health and function by relieving mild joint stiffness, pain and swelling associated with mild osteoarthritis, and also helps to support joint mobility. Caruso's King Krill 2000 may assist with maintaining healthy cognitive function and performances including concentration, focus, learning ability and memory.

Vitamin D3 may help to support healthy bone mass density by aiding calcium absorption and promoting bone mineralisation. Vitamin D3 helps to support healthy muscle contraction function and supports healthy cardiovascular system function, and heart health. 

Active Ingredients. Each capsule contains:
Euphausia superba Oil (Antarctic Krill Oil)…….......2g (2000mg)
Equiv. to Eicosapentaenoic Acid 200mg
Equiv. to Docosahexaenoic Acid 100mg
Colecalciferol…………………………………...........................…25mcg
Equiv. Vitamin D 1000IU

Directions:
Adults take 1 capsule daily with food or as advised by your health professional. Always read the label. Follow the directions for use. If symptoms persist, worsen or change unexpectedly, talk to  your health professional.