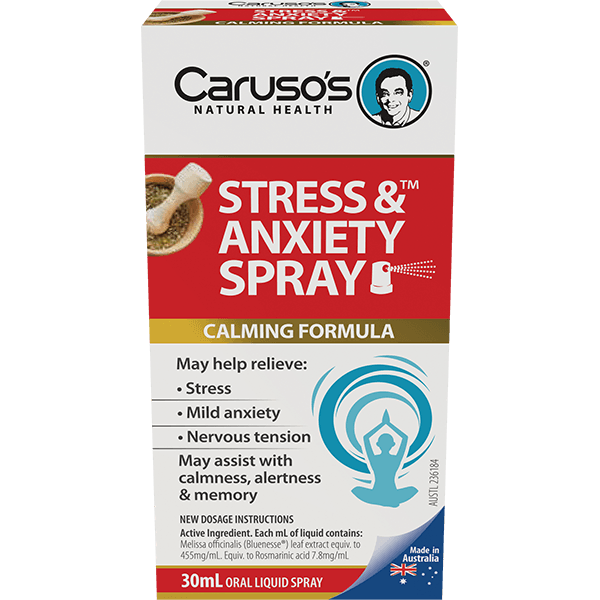 Caruso's Stress & Anxiety - 30ml Spray
Original price
$27.95
-
Original price
$27.95
Stress is a normal feeling we all experience some time in our lives. Often stress arises when you face difficult situations. This may then cause you to feel some of the symptoms associated with stress such as irritability, tension restlessness and mild anxiety. Melissa officinalis commonly known as Lemon Balm, is a herb that may help to calm the mind and nourish the nervous system. Caruso's Stress and Anxiety Spray contains a specific extract of Melissa officinalis called Bluenesse®, helping to improve mental clarity and alertness and reduce any feelings of stress and mild anxiety such as nervous unrest and irritability. The spray delivery system provides easy administration and makes it a suitable product for those who are unable to swallow tablets.

Active Ingredients. Each mL of liquid contains:
Melissa officinalis (Bluenesse®) leaf extract equiv. to…...455mg/mL
Equiv. to Rosmarinic acid 7.8mg/mL

Directions:
Adults and children over the age of 12: Place spray nozzle into mouth and spray 5 times. Use 3 times a day (maximum 15 sprays per day) during times of stress and/or anxiety or as advised by your healthcare professional. Always read the label and follow the directions for use. If symptoms persist, worsen or change unexpectedly, consult your health professional. Not suitable during pregnancy or breastfeeding. Contains Sorbates. Contains Ethanol.