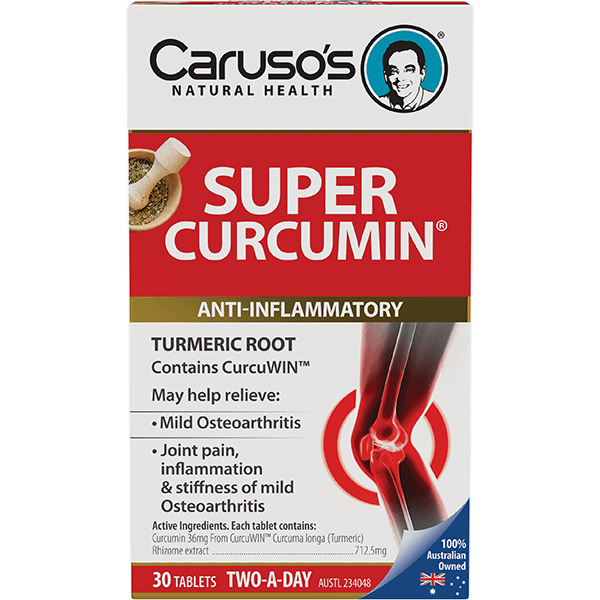 Caruso's Super Curcumin - 30 Tablets
Original price
$0.00
-
Original price
$0.00
Curcumin is the constituent which gives Turmeric its orange/yellow colour. It has been used for both its colour and flavour in numerous cuisines around the world. Particularly on the Indian Subcontinent and in South East Asia where it is native.
Curcumin is a bioactive compound naturally extracted from the root of the Turmeric plant. Curcumin must be absorbed by your body to benefit your health. CurcuWINTM is an extract of turmeric used in Caruso's Super Curcumin. It undergoes the proprietary UltraSOL® technology process. This advanced technology means CurcuWINTM is bound to a special hydrophilic molecule making it water loving which may assist absorption.

Active Ingredients. Each tablet contains:
Curcuma longa (Turmeric) extract equiv. to dry rhizome………712.5mg
Equiv. CurcuWINTM 150mg
Equiv. To Curcuminoids 36mg

Directions:
Adults take 1 tablet 2 times a day with food or as advised by your healthcare professional. Always read the label. Follow the directions for use. If symptoms persist, talk to your health professional. Not suitable for use during pregnancy or breastfeeding. Not suitable for children under the age of 18.