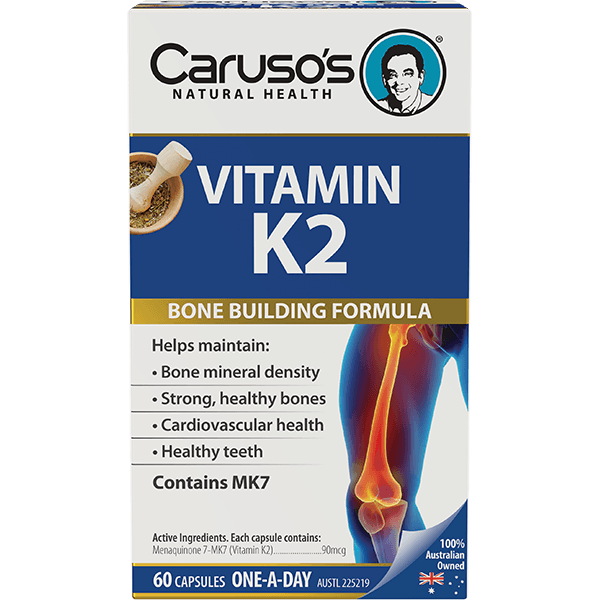 Caruso's Vitamin K2 - 60 Capsules
Original price
$27.95
-
Original price
$27.95
Caruso's Vitamin K2 contains the bioavailable Menaquinone-7 which supports the maintenance of healthy bones and cardiovascular system functions. Vitamin K2 helps to support bone mineralisation including calcium absorption and metabolism in the bones. Vitamin K2 dependent protein called Osteocalcin. Osteocalcin binds calcium absorbed from your diet to your bone matrix, helping to build healthy bones. Vitamin K2 helps maintain bone strength, mass and integrity by supporting bone mineralisation. Vitamin K2 maintains calcium absorption and metabolism in bones, supporting bone building. Additionally, Vitamin K2 maintains a healthy cardiovascular system, including a healthy heart and blood and cardiovascular functions. 

Active Ingredients. Each capsule contains:
Menaquinone-7 (MK-7) Vitamin K2……………………………...…90mcg

Directions:
Adults aged 18 and over: Take 2 capsules daily with food or as advised by your health professional

Children aged 10-18: Take 1 capsule daily with food or as advised by your health professional. If your child is unable to swallow capsules, the capsule may be pierced and squeezed onto a spoon or mixed with food and taken immediately.

Always read the label and follow the directions for use. If symptoms persist, worsen or change unexpectedly, talk to your health professional. Vitamin supplements should not replace a balanced diet. Contains Soya and sulfites. Phenylketonurics - this product contains phenylalanine.