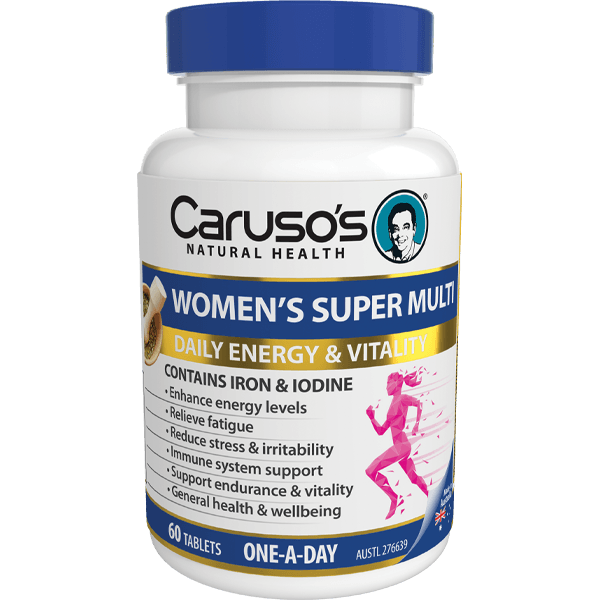 Caruso's Women's Super Multi - 60 Tablets
Original price
$31.95
-
Original price
$31.95
Caruso's Women's Super Multi is a high potency multi-vitamin specifically formulated to assist women with their nutritional demands by supplementing with vitamins, minerals and nutrients required for the general health and wellbeing specifically of women. Caruso's Women's Super Multi is a high strength multi-vitamin containing 25 ingredients required for supporting general health and overall wellbeing. Caruso's Women's Super Multi is a broad spectrum, multi action formula combining a potent blend of selected vitamins, minerals and antioxidants. Caruso's Women's Super Multi has been specifically formulated to help meet the physiological and nutritional needs of women. It helps boost energy levels while reducing stress and fatigue. Caruso's Women's Super Multi also assists with supporting the nervous system, maintaining immunity, reducing irritability and increasing energy levels.

Caruso's Women's Super Multi contains 7 powerful antioxidants, which may help support your cells from free radical damage and also contains 8 important vitamins and minerals that may help support your energy levels. It also contains ingredients to help support collagen production and help maintain healthy hair, skin and nails. 

Active Ingredients. Each tablet contains:
Thiamine Hydrochloride (Vitamin B1)...........................................50mg
Equiv. to Thiamine 44.6mg
Riboflavin (Vitamin B2)................................................................ 50mg
Nicotinamide (Vitamin B3)........................................................... 50mg
Calcium Pantothenate (Vitamin B5).............................................. 50mg
Equiv. to Pantothenic acid 45.8mg
Equiv. to Calcium 4.2mg
Pyridoxine Hydrochloride (Vitamin B6).........................................50mg
Equiv. to Pyridoxine 41.1mg
Biotin (Vitamin B7).......................................................................2.5mg
Folic acid (Vitamin B9).................................................................500mcg
Cyanocobalamin (Vitamin B12)....................................................50mcg
Choline Bitartrate.......................................................................25mg
Inositol.......................................................................................25mg
Calcium Ascorbate (Vitamin C)....................................................121mg
Equiv. to Ascorbic acid 100mg
Equiv. to Calcium 11.38mg
D-Alpha Tocopheryl Acid Succinate…….........................................20.7mg
Equiv. to Vitamin E 25IU
Colecalciferol............................................................................12.5mcg
Equiv. to Vitamin D3 500IU
Calcium Phosphate......................................................................270.3mg
Equiv. to Calcium 100mg
Total Calcium 115.6mg
Magnesium Phosphate.................................................................242mg
Equiv. to Magnesium 50mg
Iron Amino Acid Chelate...............................................................50mg
Equiv. to Iron 5mg
Potassium Phosphate...................................................................44.6mg
Equiv. to Potassium 20mg
Zinc Sulphate Monohydrate..........................................................27.4mg
Equiv. to Zinc 10mg
Copper Gluconate........................................................................1.43mg
Equiv. to Copper 200mcg
Chromium Picolinate...................................................................402.25mcg
Equiv. to Chromium 50mcg
Potassium Iodide........................................................................ 261.6mcg
Equiv. to Iodine 200mcg
Selenomethionine......................................................................186.29mcg
Equiv. to Selenium 75mcg
Manganese Sulphate...................................................................7.69mcg
Equiv. to Manganese 2.5mcg
Betacarotene..............................................................................1.5mg


Directions:
Adults take 1 tablet a day with breakfast or advised by your healthcare professional. Always read the label. Follow the directions for use. If symptoms persist, worsen or change unexpectedly, talk to your health professional.

Zinc may be dangerous when used in large amounts or for long periods of time.

This product contains selenium which is toxic in high doses. A daily dose of 150mcg of selenium from dietary supplements should not be exceeded. Contains soya. Phenylketonurics - this product contains phenylalanine. Vitamin supplements should not replace a balanced diet.