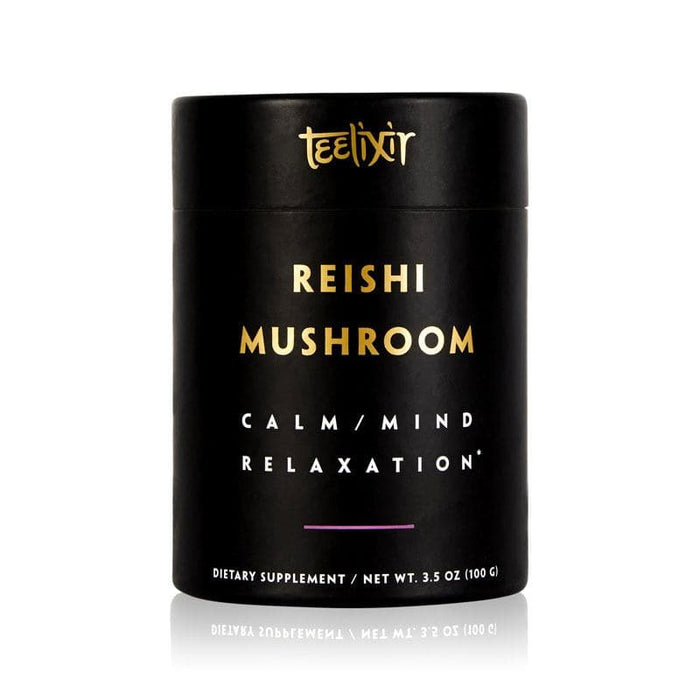 REISHI MUSHROOM
Original price
$32.70
-
Original price
$32.70
Reishi mushroom is one of the most famous and highly revered tonic herbs and adaptogens of all time. Reishi mushrooms have been used for thousands of years as a superfood fungus and one of the best supplements to strengthen the immune system, reduce stress, increase energy, and promote healthy ageing and longevity.
Reishi mushroom is regarded as the best "spirit elevating" (Shen) tonics that positively promotes mental well-being health benefits, calmness, and helps cultivate more peace, love and happiness in one's life.
100% Certified Organic Reishi Mushroom Extract
Authentic Di Tao Source
Third-Party Tested and Quality Verified
Guaranteed Potency: >35% Beta-D-Glucans <2% Starch
No Added Grains, Starch, Mycelium or Fillers
Reishi mushroom extracts are a powerful herbal medicine that offer many profound health benefits including stress reduction, strengthening of the immune system and may help combat colds and infections:
Reduces Stress
Calms the Mind
Increases Energy
Elevates Mood
Enhances Immune System
Promotes Deep Sleep
Soothes Allergies
Improves Hair and Skin Health
Supports Nervous System Health
Supports Gut Health and is Good for Candida
May Help Fight Colds and Infections
Nourishes the Heart, Liver, Lungs, Kidneys
Reishi Mushroom 10:1 Dual Extract Powder*

Certified Organic
Vegan
Paleo
Gluten Free
Non GMO
Zero Sugar

*Wild cultivated and 100% log-grown Red Reishi mushroom(Ganoderma lucidum) fruiting body. No added grains, fillers, starch or mycelium.

Our organic Reishi mushrooms are wild cultivated deep in the mountains of China. Our Reishi mushroom extract undergoes a dual extraction (water and alcohol) process that uses only the Reishi mushrooms fruit bodies. This creates a Reishi mushroom extract rich in immune system supportive beta-glucans (water soluble polysaccharide compounds) and the adaptogenic triterpenoids (alcohol soluble compounds).

Origin: Changbai Mountain, Jilin province, China.

HOW TO USE:

When taking Reishi extracts we recommend starting with 1/4 - 1/2 tsp (1.6g) per day. If you are sensitive to herbs or Reishi mushrooms, you may want to start with less. When your body feels ready, you can increase your dosage according to your daily needs. Best to use in the AM and PM.

For fast absorption, mix the Reishi mushroom powder directly into coffee, hot tea or your favourite nut milk. Reishi mushroom extract is also a delicious addition to your smoothies, hot chocolates, soup broths, raw desserts, baked goods and more. Teelixir mushroom extracts are not sensitive to heat.

Flavour Profile: Bitter and earthy.

These statements have not been evaluated by the FDA or TGA and should not be viewed as medical advice. There are no known side effects, however, consult your health care practitioner before use if you're pregnant or nursing.