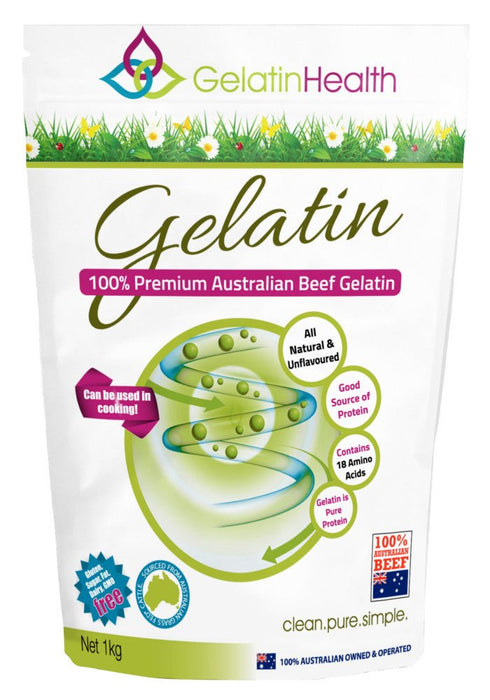 Gelatin Health - Digestive Health 1kg
Sold out
Original price
$40.25
-
Original price
$40.25
Food Grade Gelatin
100% Premium Australian Beef Gelatin

Good source of dietary protein

Can be used in cooking

100% pure and natural

Contains 18 amino acids

Sourced from 100% Australian Beef

All-natural & unflavoured

Free from sugar, fat, dairy, GMO

Free from additives or colouring agents

Sourced from predominantly pasture raised Australian cattle - Grass fed, grain finished.

Benefits gastrointestinal tract.

Contains keratin, a protein that improves the condition of hair, nails and skin. 

Derived from the skin, bones and connective tissue of Australian bovine cattle. These cattle are all vet checked and certified.

 

Kosher compliant and Halal certified.

 
Gelatin is pure Collagen. Collagen is the substance that is derived from processing animal bones and connective tissue. It contains 18 amino acids that are vital to the everyday functions of the body and your organs.