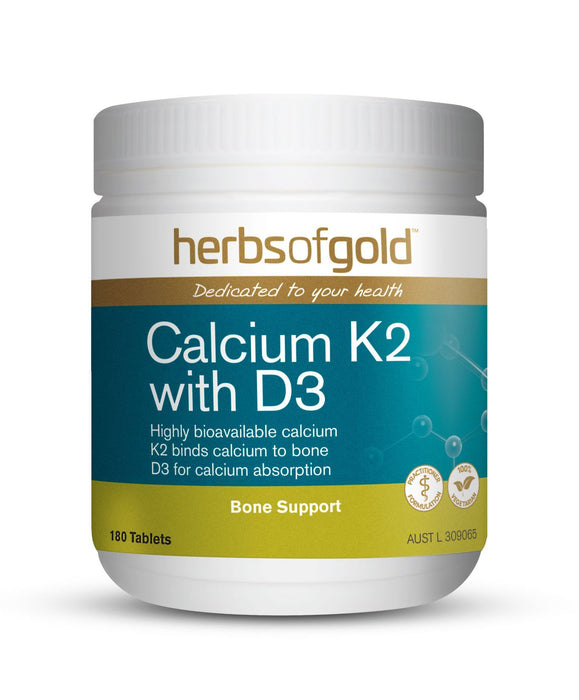 HERBS OF GOLD CALCIUM K2 WITH D3 180T
Original price
$79.45
-
Original price
$79.45
Herbs of Gold Calcium K2 with D3 is an innovative calcium supplement, specifically formulated with menaquinone 7 (vitamin K2) and vitamin D3 for optimal bone health.

* Calcium K2 with D3 contains two organic, well absorbed forms of calcium- Aquamin™ and calcium citrate.

* Aquamin™ is a highly bioavailable source of calcium derived from mineralised seaweed.

* Calcium supports bone density and maintains strong, healthy bones. A diet deficient in calcium can lead to osteoporosis later in life. Calcium may help prevent of osteoporosis when dietary intake is inadequate.

* Calcium and vitamin D help to support teeth mineralisation and maintain healthy teeth.

* Vitamin D assists intestinal absorption of calcium and helps maintain healthy, strong bones.

* Calcium and vitamin D help to maintain bone health by supporting bone density and strength in post-menopausal woman.

* Vitamin K2 (menaquinone 7), in the form of K2VITAL® Delta, is necessary to incorporate calcium into bone to support the integrity and strength of bones.

* Calcium and vitamin K2 help to maintain cardiovascular system health.