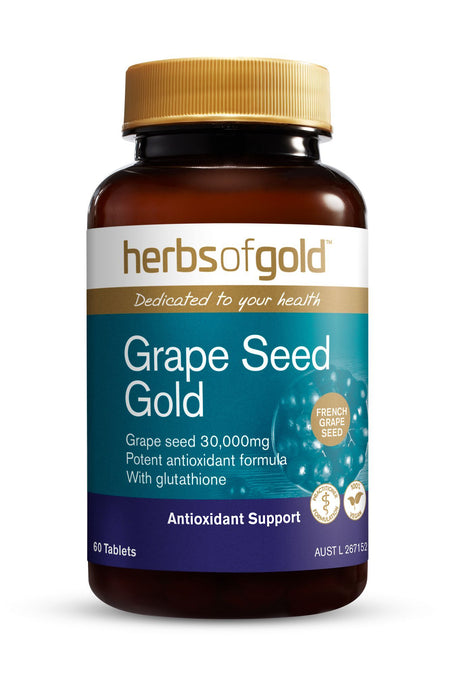 HERBS OF GOLD GRAPE SEED GOLD 60T
Original price
$45.45
-
Original price
$45.45
Herbs of Gold Grape Seed Gold is a comprehensive antioxidant formula containing high-quality Grape seed from France to reduce free radicals formed in the body.
Grape Seed Gold contains a broad spectrum of nutritional antioxidants and free radical scavengers to reduce free radicals in the body. These antioxidants work synergistically to produce a more potent antioxidant effect than the sum total of individual antioxidants, helping to strengthen the antioxidant network.
Grape Seed Gold is formulated with 30g of Grape seed, standardised to contain 237.5mg procyanidins, or oligomeric proanthocyanidins (OPCs) per tablet.
Grape seed maintains healthy vision and blood capillary health and supports blood vessel and cardiovascular system health.
Grape Seed Gold contains vitamin C to assist connective tissue production and support collagen formation and health. Vitamin C and zinc support connective tissue and skin health.
Grape Seed Gold contains vitamins and minerals that support immune system health.