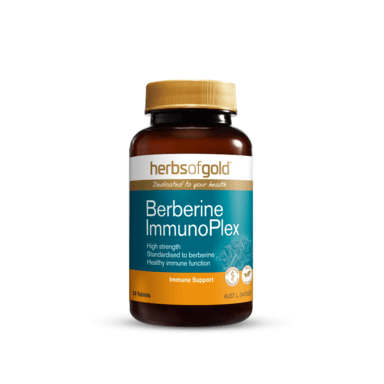 HERBS OF GOLD BERBERINE IMMUNOPLEX 30T
Original price
$39.95
-
Original price
$39.95
Unique complex standardised to berberine
Herbs of Gold Berberine ImmunoPlex contains Phellodendron and Barberry, herbs that naturally contain the alkaloid compound berberine.

Berberine ImmunoPlex is standardised to contain 109.26mg of berberine per tablet. Berberine is the primary active constituent responsible for the pharmacological activity of Phellodendron and Barberry.

Barberry is traditionally used in Western herbal medicine to support liver health and digestive system health and relieve symptoms of indigestion.

Berberine ImmunoPlex contains Cat's Claw, to support healthy immune system function, and Thyme, traditionally used in Western herbal medicine to reduce excess mucous and relieve cough and symptoms of sore throat.
Always read the label.
Follow the directions for use.
If symptoms persist, talk to your health professional.