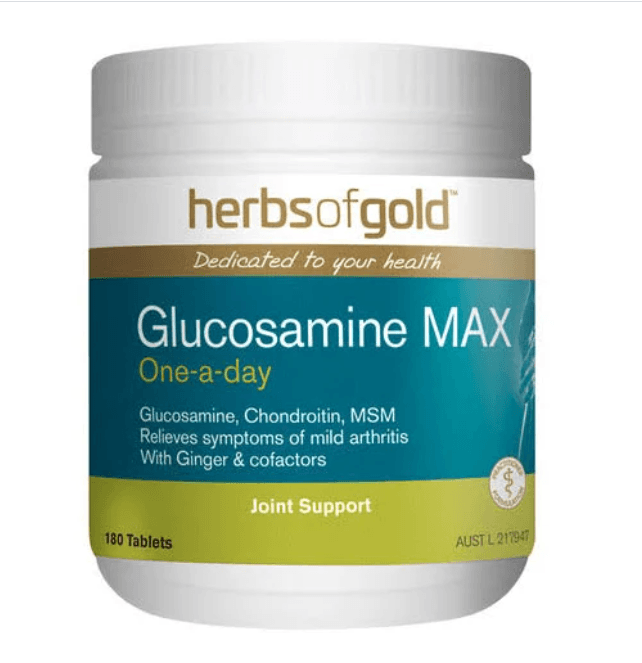 HERBS OF GOLD GLUCOSAMINE MAX 180T
Original price
$85.50
-
Original price
$85.50
Herbs of Gold Glucosamine MAX 180T
Relieve symptoms of mild arthritis 
Herbs of Gold Glucosamine MAX is a high-strength, one-a-day formula containing glucosamine to support joint health.
Glucosamine, chondroitin, MSM
Relieves symptoms of mild arthritis
With Ginger & cofactors
Always read the label. 
Follow the directions for use. 
If symptoms worsen or change unexpectedly, talk to your health professional.
Glucosamine hydrochloride is derived from seafood. 
Directions
Adults and children over 12 years – Take 1 tablet daily, with food, or as directed by your health professional. 
Indications
Herbs of Gold Glucosamine MAX is formulated with glucosamine hydrochloride plus cofactors required for the formation of healthy cartilage. 
Glucosamine relieves symptoms of mild osteoarthritis including mild joint aches and pain, inflammation and swelling. 
Glucosamine supports joint mobility and flexibility. 
Herbs of Gold Glucosamine MAX contains Ginger, a herb with anti-inflammatory properties that relieves symptoms of mild osteoarthritis, including mild joint aches and pains. 
Ginger is traditionally used in Western herbal medicine to promote healthy blood flow and support healthy blood circulation.
WARNINGS:
If symptoms persist consult your healthcare practitioner.
Ingredients
Each tablet contains:
Glucosamine hydrochloride
1.5g
Bovine sodium chondroitin sulfate
130mg
   equiv. bovine sodium chondroitin sulfate 120mg
Dimethyl sulfone (MSM)
100mg
Proline
10mg
Glycine
10mg
Colloidal anhydrous silica
10mg
Zinc oxide equiv. zinc
5mg
Manganese sulfate monohydrate equiv. manganese
3mg
Zingiber officinale (Ginger) root extract 50mg
 
derived from dry root
1g
Does not contain egg, milk, peanut, soy, tree nuts, gluten, lactose or artificial colours, flavours or preservatives.