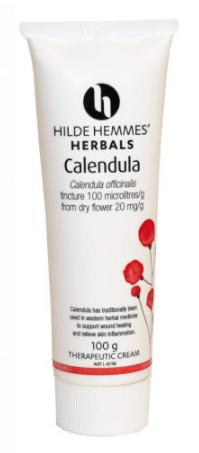 Hilde Hemmes Calendula Cream - 100g
Original price
$24.50
-
Original price
$24.50
Calendula (also called marigold) is a native of the Mediterranean region. Historically, it was used as 'poor man' saffron and was prevalent in market places during the Middle Ages. Medicinally, infusions, extracts and ointments were prepared from the petals by folk healers. Calendula can be found in many gardens, however not everybody is aware of its excellent medicinal value.
ACTIVE INGREDIENT (in 1 g)
Calendula officinalis tincture 100 microlitres from dry flower 20 mg.
INDICATIONS
Calendula has traditionally been used in western herbal medicine to improve:
the healing of minor skin wounds
cuts
scratches
abrasions
relieve skin inflammation.
DIRECTIONS FOR USE
Adults: Apply to the affected area 2-4 times daily as required.

WARNINGS
Always read the label. Follow the directions for use.
If symptoms persist, talk to your health professional.
For external use only. Contains alcohol.
Contains ethanol 9.0% v/w and phenoxyethanol. 


OTHER INFORMATION
Made in Australia.
Creams are water-based making them non-greasy and easily absorbed.
Compatible with most skin types.
Suitable for vegans and vegetarians.
Packaged in tamper-evident plastic tubes to ensure contents remain hygienic.
Not tested on animals.
Manufactured according to international harmonised standards for Good Manufacturing Practice for Medicinal Products.
Listed on the Australian register of Therapeutic Goods as Hilde Hemmes' Herbals Calendula Cream AUST L 42108