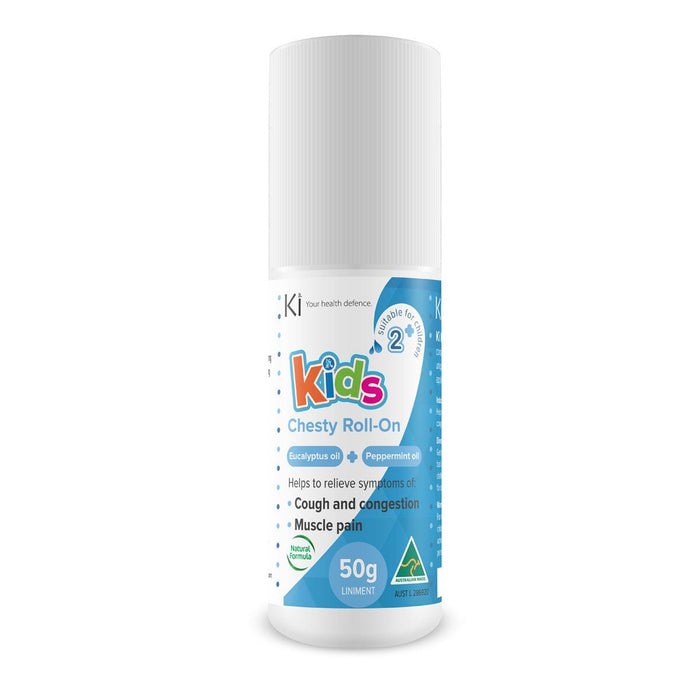 Ki Kids Chesty Roll-On 50g
Original price
$14.95
-
Original price
$14.95
Ki Kids Chesty Roll-On contains all-natural ingredients to help provide kids with relief when suffering from the common cold. Formulated with a soothing blend of Eucalyptus and Peppermint oil to deliver fragrant aromas which have been traditionally used to help relieve cough, congestion and muscle pains.
Ki Kids Chesty Roll-On is a gentle yet effective formula, which ensures mess-free application through its unique roll-on device. It is suitable for children from 2 years of age. Ki Kids Chesty Roll-on is suitable for sensitive skin & is unlikely to irritate, however as with all skin products, it is always recommended to test a small patch as a precaution


Each Gram of liniment contains:
| | |
| --- | --- |
| Eucalyptus Oil | 100mg |
| Peppermint Oil | 50mg |

Dosage & Directions: Gently apply and massage on chest, neck and back up to twice a day or as directed. Keep clothing loose to allow for vapours rise. Suitable for sensitive skin.