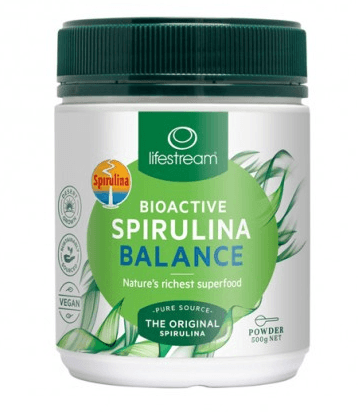 Lifestream Bioactive Spirulina Balance Powder 100g
Sold out
Original price
$28.55
-
Original price
$28.55
Overview
Spirulina, a spiral shaped microscopic fresh water plant, contains one of the richest concentrations of nutrients known in any food, plant, grain or herb. It has an excellent balance of nutrients including chlorophyll, carotenoids, vitamins, minerals, unique phytonutrients and all the essential amino acids. Spirulina is low in calories and fat and is one of the highest protein vegetarian foods. Lifestream Spirulina is a genuine health food.
Lifestream Bioactive Spirulina Balance is a concentrated, nutrient-rich, ancient superfood. When taken as part of a healthy diet made up of a variety of foods, this complete plant protein provides a powerful combination of vitamins, minerals, amino acids and antioxidants that help maintain healthy energy levels throughout the day.
Lifestream Bioactive Spirulina Balance:
Provides iron which contributes to reducing tiredness and fatigue
Provides a natural source of iron
Is naturally bioavailable
The original superfood, Bioactive Spirulina Balance is grown away from pollution in pure mineral-rich water. It is non-GMO and sustainably sourced by the global leaders in microalgae research and cultivation.
Directions for Use
A 3 gram serving of Lifestream Spirulina provides up to 16% of the RDI of Iron for Women aged 19-50 years, whilst a 5 gram serving of Spirulina will provide up to 27% of the RDI of iron for women aged 19-50 years. Lifestream Spirulina is an excellent natural iron source especially when combined with a healthy, well balanced diet of other iron-rich foods such as green leafy vegetables, seeds, molasses, beans and pulses, dried fruits, eggs and lean meats.  For maximum iron absorption, we recommend 10 grams (20 tablets) of Lifestream Spirulina daily for one month followed up by a maintenance dose of 3-6 grams (6-12 tablets) daily.
Contraindications & Cautions
People with on-going iron deficiency symptoms should seek professional healthcare advice for specific treatment. Some people can experience problems associated with taking synthetic iron supplements - such as constipation and intestinal pain. Lifestream Spirulina produces none of these side effects and provides a natural source of bioavailable iron.