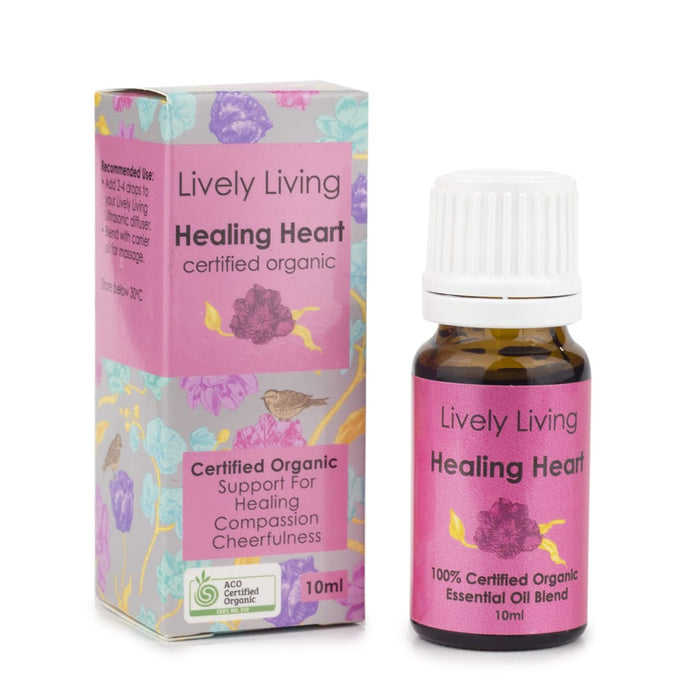 Lively Living Healing Heart
Original price
$21.95
-
Original price
$21.95
100% CERTIFIED ORGANIC OILS
Healing Heart is 100% a Certified Organic Essential Oil Blend.

Mind, Body & Soul Collection
The Mind, Body & Soul Collection was created for those seeking a deeper level of connection to their soul, mind & body. There are many situations in life that we go through that may not have completed at the highest point spiritually. These could be seemingly small situations to more prominent life events. Perhaps a conversation did not go as planned and you felt mis-understood. Perhaps you did not achieve a goal that you felt you worked so hard to achieve. Or perhaps you lost a friend or family members or even a special pet. This beautiful blend may help to release past upsets so your heart may be full of love, joy and passion again.
The sweet smelling aroma remind you to be gentle on yourself, and to look after yourself at all times.

Containing only 100% certified organic ingredients, 'Healing Heart' combines:
ORGANIC PATCHOULI
(Pogostemon Cablin Leaf)
Known for its grounding properties, is commonly used in aromatherapy because of its antidepressant properties. Inhaling patchouli oil impacts our hormones, and encourages the release of serotonin and dopamine. These hormones may ease feelings of sadness and anxiety.

ORGANIC SWEET ORANGE
(Citrus Aurantium Dulcis Peel)
It will lend support by uplifting and promoting a positive attitude while calming our spirit.

ORGANIC YLANG YLANG
(Cananga Odorata Flower)
Has been used to balance male and female energies, so one can achieve a state of harmony. It releases unwanted emotions such as anger, sadness and negative thinking.

ORGANIC LAVENDER
(Lavandula Angustifolia)
Is known for it ability to calm and heal.

ORGANIC MANDARIN
(Citrus Nobilis Peel)
Uplifts the spirit, encouraging to embrace challenges with grace and enthusiasm.

Add a few drops to your Lively Living diffuser, bath or massage oil, or wear as a perfume too. The Healing Heart Certified Organic Blend will have your heart singing in no time at all again!