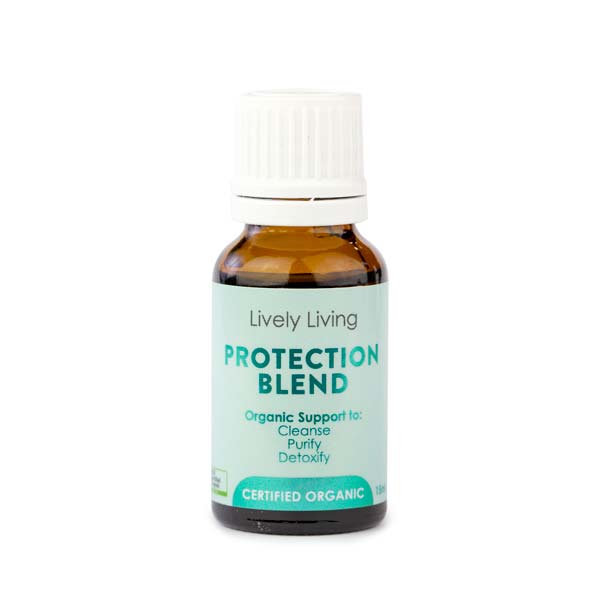 Lively Living Protection Blend
Sold out
Original price
$21.95
-
Original price
$21.95
15ml  – 100% Certified Organic Essential Oil Blend.
Protects against environmental and seasonal threats and is ideal to use for cleansing and purifying the air. It contains organic oils which are known to eliminate harmful bacteria and viruses.
This 15ml Certified Organic, essential oil blend contains
ORGANIC SWEET ORANGE
(Citrus Aurantium Dulcis Peel Oil)
Orange essential oil is known to have a calming effect on the nervous system. It assists to prevent infections, relieves inflammation, and alleviates anxiety and depression.

ORGANIC CLOVE BUD
(Eugenia Caryophyllus Flower Oil)
Highly anti-microbial, anti-fungal, antiviral, antiseptic. Commonly used to eliminate mould spores, fight infections, headaches and sore throats.
ORGANIC CINNAMON BARK
(Cinnamomum Zeylanicum Bark Oil)
A soothing and sweet aroma, which instantly soothes the mind. Great as a home deodorizer.

ORGANIC LEMON
(Citrus Limon Peel Oil)
Uplifts mood, boosts immune system and energy. A great disinfectant and all purpose cleaner.

ORGANIC ROSEMARY
(Rosmarinus Officinalis Leaf Oil)
Known to improve brain function, ease stress and relieve pain.

ORGANIC EUCALYPTUS
(Eucalyptus Globulus Leaf Oil)
Anti-inflammatory, antiseptic, decongestant
Add 2-5 drops in your favourite Lively Living diffuser to create an ideal environment.