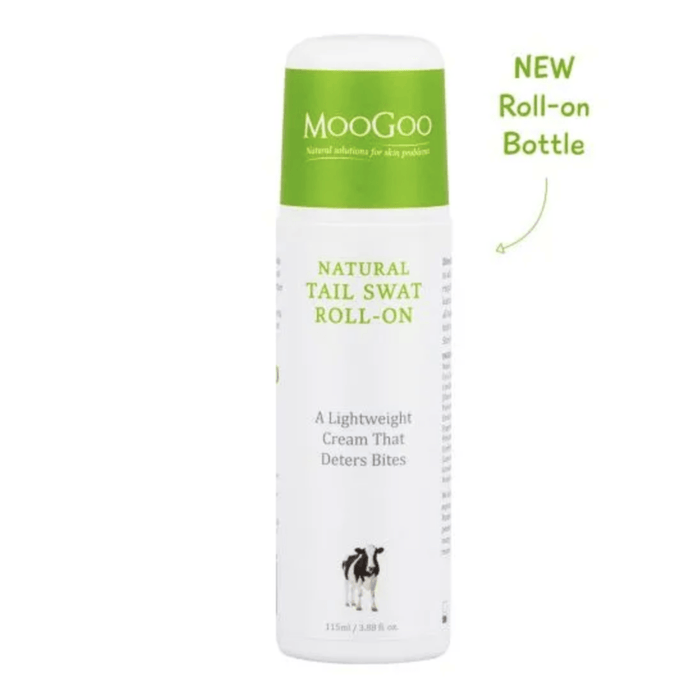 MooGoo Natural Tail Swat Roll-On 115mL
Sold out
Original price
$9.50
-
Original price
$9.50
A roll on formula that keeps the insects away
Not an insect repellent, but changes your scent to something bugs don't like
Made using natural, healthy, moisturising ingredients like Soy Bean Oil
Suitable for all ages including children and newborns
Can be applied liberally anywhere on the body, including the face
Naturally preserved with Hops Extract – free of Parabens and Phenoxyethanol
Tails come in handy for cows during spring and summer to swat away pesky insects, and sometimes we wish we had one too. We aren't fans of mossies, but we also aren't big on putting pesticides on our skin either. We also don't like strong essential oils like Citronella or Tea Tree which can cause irritation.
We developed a natural, effective formula that will help keep biting insects at bay. We trialed a number of different formulas before we found this one. When we tried it, we loved the smell and also noticed that when we wore it at barbecues or outdoors, we were not bitten so much. Have you ever noticed how some people never seem to get bitten while others are devoured?  This scent helped us to become one of the lucky ones who don't seem to be troubled by bites.
Please note that this is not a general insect repellent. Our Tail Swat Roll On contains a blend of natural oils that changes your scent to something that we quite like, but the biting bugs don't – and you don't have to smell like a citronella candle. It can be applied as liberally as needed, including over the face. It is also great for small children that are sleeping in an area where they may be bitten.
Ingredients:
Aqua (H₂O's Fancy Name), Glycine Soja (Soya Bean) Oil, Coco Caprylate (Coconut-Based Conditioner),  Polysorbate 20 (Food Grade Emulsifier), Sucrose Polystearate (Sugar Ester), Cetearyl Alcohol (Plant-Based Emulsifying Wax), Fragrance (Phthalate-Free), Piroctone Olamine (Olamine Salt), Olea Europaea (Olive) Oil Unsaponifiables, Cymbopogon Schoenanthus (Lemongrass) Oil, Apium Graveolens (Celery) Seed Oil, Humulus Lupulus (Hops) Extract.
We choose to avoid repeated exposure to ingredients like Parabens, Phenoxyethanol and penetration enhancers. And many more we don't have room to list here.
We show all the ingredients on our website, not just the pretty ones. That way you can see why we chose them and get in touch if you have any more questions.
Please be aware that ingredients may vary from time to time. Please refer to the ingredient list on the product packaging for the most up-to-date and relevant list of ingredients.