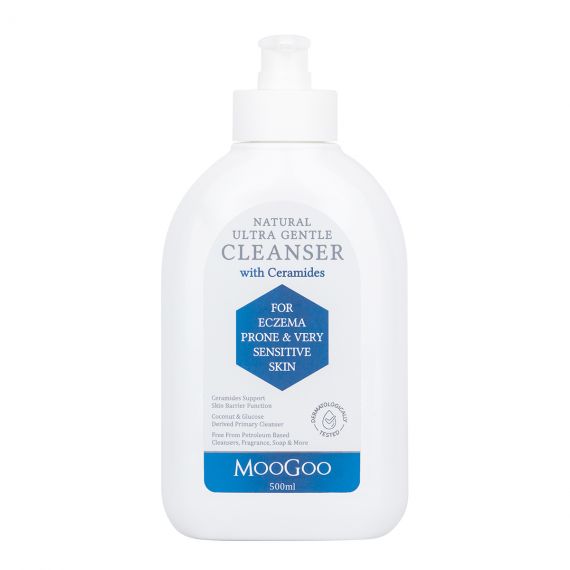 MooGoo Ultra Gentle Cleanser with Ceramides 500mL
Sold out
Original price
$24.50
-
Original price
$24.50
Our Ultra Gentle Cleanser uses Ceramides to retain moisture within the skin and act as the building blocks for a healthy protective barrier. Without Ceramides, the barrier function weakens, and a compromised barrier means vital moisture can escape and external irritants, pollutants, and allergens can get in. A compromised skin barrier and a lack of hydration can often lead to flare-ups.
This Ultra Gentle Cleanser was specifically designed for eczema-prone, hypersensitive or fragile skin, but because of its extremely gentle nature, it's suitable for every skin type and every age, no exceptions. And not only is it one of the most skin-friendly cleansers on the market it is one of the most environmentally friendly too. Through its unique fermentation process of sugar cane/grain, low energy consumption for manufacturing and bio-degradable ingredients.
The new Ultra Gentle Cleanser with Ceramides pairs perfectly with MooGoo's Eczema & Psoriasis Cream (AUSTL 335464) which has a solid reputation as a follow-on treatment to steroidal creams.
The lowest-irritation cleanser available for people with extremely sensitive skin
Our primary cleanser is the gentlest available anywhere
Irritation is 75% lower than SLS and 38% lower than the next mildest cleanser*
Contains Ceramides to support skin barrier reinforcement
Dermatologically Tested (Repeat Insult Patch Test)
pH Balanced (5.5), Free of Parabens, Phenoxyethanol and much more
Use on the face & body, suitable for all ages and skin types