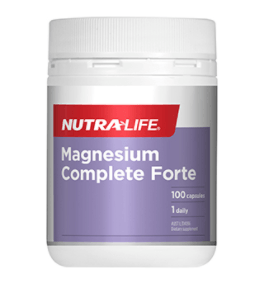 NUTRA-LIFE MAGNESIUM FORTE 400MG 100C
Original price
$26.10
-
Original price
$26.10
Nutra-Life Magnesium Complete Forte is a high strength, one-a-day Magnesium supplement that hat delivers 400mg of elemental magnesium helping to maintain levels of this mineral in the body. Involved in more than 300 essential metabolic reactions in the body, Magnesium plays a role in energy production, supports the development of healthy bones and may assist in supporting a healthy cardiovascular system and muscle function. Taken as directed, Nutra-Life Magnesium Complete Forte helps to:
Support healthy muscle & nervous system function
Maintaining healthy cardiovascular system health
The prevention of Magnesium deficiency when dietary intake is inadequate
Dosage: Take 1 capsule daily, or as directed by your healthcare professional.
Ingredients: 
Each capsule provides
Magnesium oxide 574.5mg
Equiv. Magnesium 337mg
Magnesium phosphate pentahydrate 174.2mg
Equiv. Magnesium 36mg
Magnesium amino acid chelate 135mg
Equiv. Magnesium 27mg
Total Elemental Magnesium 400mg
Zinc oxide 2.49mg
Equiv. Zinc 2mg
Encapsulating aids