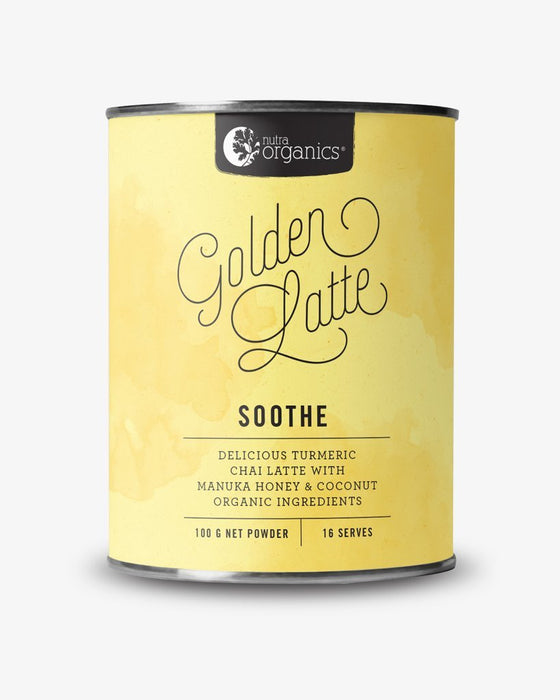 Nutra Organics - Golden Latte 100g
Original price
$22.95
-
Original price
$22.95
A delicious turmeric chai latte that makes a vibrant golden milk to soothe your insides.
With the goodness of Turmeric and the unique properties of Manuka Honey, this delicious blend makes a bright Golden Latte. Creamy coconut milk and Ayurvedic chai spices complete the rounded blend to deliver the perfect coffee alternative. Enjoy with your choice of milk.
Ayurveda is an ancient Indian practice used for thousands of years based on the belief that wellness depends on a delicate balance of mind, body, and spirit. It is one of the oldest holistic systems that promotes the use of chai spices. These spices are traditionally used to inspire a perception of wellness & tranquility through their aromatic scent.
Turmeric has over the past 4000 years of Ayurveda been traditionally consumed in warm Turmeric based beverages. These drinks are always prepared with black pepper  and a source of fat, which is said to be imperative to bringing the goodness out of the Turmeric. We've made sure that our Turmeric is not only the highest quality available, but has also been carefully combined with both coconut milk and black pepper to deliver the wealth of Turmeric's traditional benefits.
Our uniquely Australian Manuka Honey is harvested from Jellybush. Traditionally Manuka Honey has been used by indigenous cultures for a wide range of internal and external benefits. Our Manuka Honey powder is stable and doesn't lose potency when exposed to dilution, heat, or light.
Coconut Milk*, Turmeric* (19 %), Australian Manuka Honey, Chai Spice Blend (6 %) (Ginger*, Cinnamon*, Cardamon*, Cayenne Pepper, Black Pepper), Vanilla Bean.
*Certified Organic Ingredients
Allergen Warning:
Manufactured in a facility that also processes products containing tree nuts, milk, eggs, sesame, fish, shellfish, soy and lupin. 
How to use it:
1. Add 2 heaped teaspoons (6 g) to a little hot milk of choice.
2. Stir to combine, then add remaining milk to make 200 mL. Optional: add maple syrup or local honey for extra sweetness.
FAQS
Is it pregnancy and breastfeeding friendly?
Yes! In saying this, we do advise to seek the advice of your primary health care professional if taking any of our products for the first time if you are pregnant or breastfeeding. We only say so as we believe that every pregnancy is different, taking a toll differently on each individual body in vitamin, mineral and energy levels. We invite you to research the product to ensure that you are not sensitive to any particular ingredients. 
Is it Vegan or Vegetarian?
NO & YES. Our Golden Latte contains Australian Manuka Honey which is derived from bees, so our product is not vegan. However it can be considered vegetarian.
Is it gluten free?
Yes! The recipes do not contain any gluten containing ingredients and we make sure that they are manufactured and packed in a gluten free environment. 
What is Golden Latte sweetened with?
The delicious sweet taste comes from the Australian Manuka Honey.
Is Manuka Honey ethical?
Supporting other local and ethical businesses that support us is deeply ingrained in the Nutra Organics ethos. That said we have especially sourced our Manuka Honey from a supplier that gathers it from many different busy bee hives up and down the Australian eastern seaboard. This makes sure that our bee's are never overworked and are free to roam wherever they shall please. This keeps them very happy and also means that they are able to keep producing amazing Manuka honey that makes all of us very happy too.
What's all the fuss about turmeric and it's soothing benefits?
Turmeric latte's are absolutely everywhere from your local cafe to supermarket shelves, you are sure to come across one in your travels. But what separates our's from the rest? Well our turmeric has been standardised to contain 5% curcumin (which has also been measured on the NIP). Curcumin is what gives turmeric its bright orange colour and is what all health experts are going crazy for. We have made sure that our latte is made the traditional way with black pepper and coconut milk to ensure the deliverance of curcumin's soothing benefits. Naturally sweetened with ethically produced Manuka Honey you will be surprised by just how tantalising a turmeric latte can be.
Why do the spices in my Golden Latte float?
Because we don't add any estabilizars or instantizers to enhance the solubility of the spices to our formula. As such our spices may float to the top of your latte but you can rest assured it's because they are the real deal. If you really would like to stop this from happening we suggest frothing the milk as this tends to keep them held in suspension a bit longer.