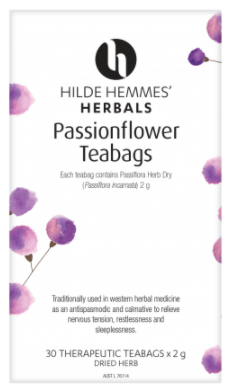 Passionflower - 30 Teabags
Original price
$17.70
-
Original price
$17.70
Passionflower has been traditionally used in western herbal medicine as an antispasmodic and calmative to relieve:
nervous tension
restlessness
sleeplessness.
ORAL USE
Active ingredient: Each teabag contains Passiflora Herb Dry (Passiflora incarnata) 2 g
Indications: Passionflower has been traditionally used in western herbal medicine:
• to relieve nervous tension and unrest
• to relieve restlessness and excess nervous energy
• to relieve sleeplessness and restless sleep
• to support general health and wellbeing
• as an antispasmodic
• as a calmative / nervous system relaxant.
Directions for use: Infuse 1 teabag (2 g) in 250 mL (one cup) of boiling water, steep for 10 minutes before removing teabag. Adults - drink 3 to 4 cups daily. There are no restrictions on duration of use.
WARNINGS
Always read the label. Follow the directions for use.
If symptoms persist, talk to your health professional.
Medical advice is recommended during pregnancy, lactation and for children under 12 years.
May cause drowsiness - if affected do not drive or operate machinery.
OTHER INFORMATION
Free from: preservatives, added colours / flavours, caffeine, gluten, sugars, lactose and nuts.
Suitable for vegans and vegetarians.
Store below 30⁰C in a dark dry place.
Manufactured according to international harmonised standards for Good Manufacturing Practice for Medicinal Products.
Listed on the Australian register of Therapeutic Goods as Hilde Hemmes' Herbals Passionflower Teabags AUST L 76114.
Dose form = Dried Herb.