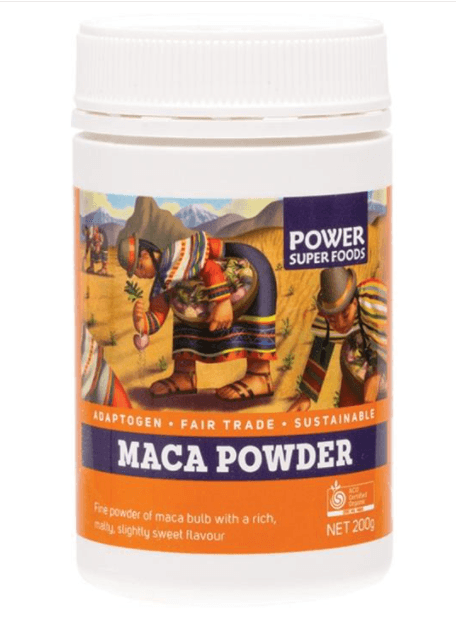 Power Super Foods Macca Powder 200G
Sold out
Original price
$19.95
-
Original price
$19.95
The Incan Superfood
Maca is a heart shaped root vegetable of the Brassicaceae (cruciferous) family that looks like a radish but grows like a sweet potato -- the colour varies from creamy yellow or light pink to dark purple or black. Maca's botanical name is Lepidium meyenii,Walpers (after German botanist Gerhard Walpers) and is also known as Lepidium peruvianum,Chacon after Peruvian researcher Dr. Gloria Chacon.
Nutritional Benefits:
A uniquely revitalizing and energy containing superfood celebrated in South America for its concentrated nutrition – rich in amino acids, essential fatty acids, vitamins, minerals and trace elements.
Ingredients: Certified Organic Fair Trade 100% Maca Root Powder (Lepidium meyenii).
Suggested Uses:
Mix into smoothies, yoghurt, cereal, oatmeal, muesli, fruit juice, or bake into cakes or cookies.
Did you know?
1. Is it really organic?
We are CERTIFIED organic – by ACO, Australia's most recognized organization. We have undergone an intensive 3-year scrutinization to prove that you are not ingesting chemicals when you buy our superfood. Our processing facility is also USDA approved certified organic.
2. Why does Maca have different names?
Maca was originally identified in the 1800's by a German botanist Gerhard Walpers who named it "Lepidium meyenii, Walpers" (after himself) - still the ONLY name officially recognized by the Peruvian government today. From the 1960's, a research worker, Gloria Chacon, investigating the cultivated Maca's constituents attempted to rename Maca after herself, hence "Lepidium peruvianum, Chacon". Some suppliers use this confusion as a clever marketing ploy to claim an 'exclusive therapeutic' species.
3. So are there different species of Maca?
There is only one species that is cultivated commercially for harvest. Like many other everyday foods, there is a plant that grows wild, but it has no dollar value. Remember, many of our common foods have 'wild cousins'; for example, bush lemons and alpine strawberries.
4. Where is Maca Power grown?
Maca is the world's highest cultivated crop traditionally grown in the Junin Plateau of the volcanic mineralized Peruvian Andes Mountains at 4100 metres – that's over 14,000 feet above sea level! Maca Power® is grown here where our certified organic processing facility (exclusive, state-of-the-art, USDA approved) is also located.
The climate at this altitude is harsh – extreme frost, intense solar radiation, gale force winds, and regular lightning strikes are the norm – and very little vegetation other than Maca, mosses, and cactus grow here. The Peruvians believe this combination of environmental factors are what give Maca it's unique properties, and science has borne this out in the study of medicinal herbs…..the more climate-specialized and the more duress a plant is under in the growth cycle, the more diverse and numerous its properties.
5. Is it Fair Trade?
Yep – a world first!
6. What does it taste like
The taste has been described variously as vanilla/nutty or butterscotch. It tastes particularly good in 'milky' blends like yoghurt and muesli; cereal and milk; or smoothies. Try baking with it and freezing the extra for a nutritional boost when you need it most!