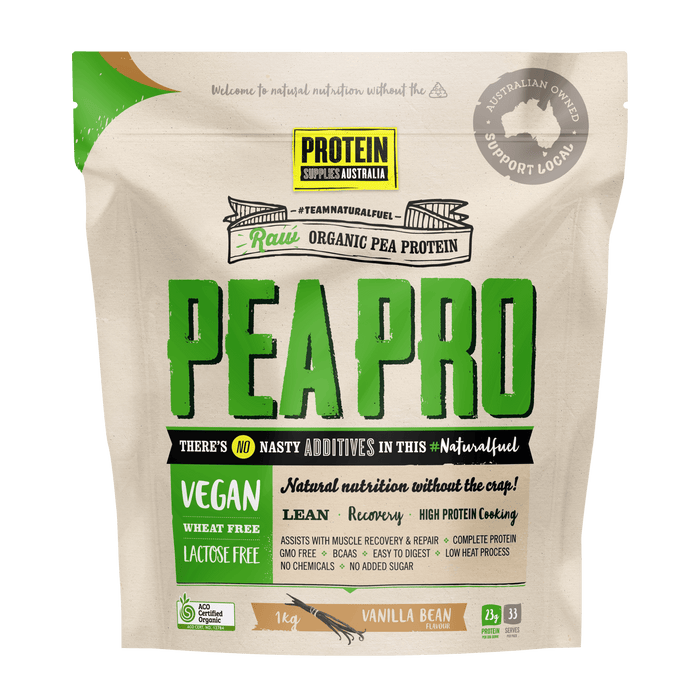 PSA Pea Pro Vanilla 1kg
Sold out
Original price
$59.95
-
Original price
$59.95
This Vanilla Pea Pro is crafted using Organic Vanilla bean, with a thick & silky aromatic natural vanilla flavour (check out the specs of vanilla in each serve!):
PeaPro is a low-carb, lactose & soy-free vegan-friendly protein, easy to digest and free from commonly used chemicals (such as hexane). Using a delicate low-heat process, the risk of damaging the sensitive proteins (denaturation) has been eliminated, delivering a raw, nutritionally superior, complete protein #naturalfuel.
Main Points:
23g Protein Per 30g Serve 
High in BCAAs )
Vegan
Alkaline Protein
Complete protein – Assists with Muscle Recovery & Repair
Other Points:
Low in Fat & Sugar
Gluten Free
Dairy Free
Easy to Digest
GMO Free
Soy Free
Low Heat Process
No nasties
Mix, shake or blend 30g (3 heaped tablespoons) of our PeaPro with 200ml of water, milk or your favourite beverage and enjoy!

Ingredients: Organic Pea Protein Isolate, Natural Flavour, Organic Vanilla Bean Powder (<1%), Natural Sweetener (Stevia).