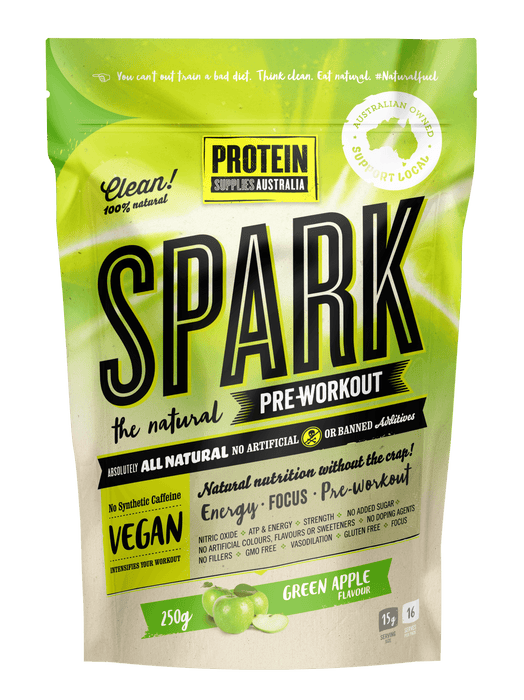 PSA Spark Green Apple Pre-Workout 250g
Original price
$40.95
-
Original price
$40.95
Containing zero artificial colours, flavours or sweeteners Spark Pre-workout's all natural ingredients allow it to have a powerful effect without the dreaded come-down of common synthetic pre-workouts. Spark's active ingredients deliver a range of results.
As well as promoting nitric oxide & vasodilation, Arginine & Beta-Alanine increase blood flow & muscle carnosine levels. Creatine and Guarana boost energy (ATP) and add intensity to your workout. BCAAs may assist in recovery and muscle growth while Taurine can assist with skeletal muscle function and reduce cramping.
Please note that one of the active ingredients, Beta-Alanine, can cause acute paraesthesia –pins and needles–which is harmless. Spark Green Apple has a light and refreshing crisp green apple flavour with a slightly tangy sweetness.  
For optimal results, use Spark around 15-20 minutes before exercise.
FORMULATED SUPPLEMENTARY SPORTS FOOD
This food is not a sole source of nutrition and should be used in conjunction with a nutritious diet and appropriate physical training or exercise program. This food is not suitable for children under the age of 15 or pregnant or breastfeeding women. It should only be used under medical or dietetic supervision.
Main Points:
Clean, Stimulating Pre-Workout
Natural Ingredients – No artificial flavours, colours or sweetener
Intensifies your Workout, Naturally.
Delicious flavour using real Green Apple
Other Points:
Promote Nitric Oxide
Support ATP & Energy Levels
Increase Muscle Strength
Mental Focus
No Added Sugar
No Artificial Colours
Flavours Or Sweeteners
No Doping Agents
No Fillers
GMO Free
Vegan Friendly
Gluten Free
INGREDIENTS: Natural Flavour, Creatine Monohydrate, Apple Powder, Beta Alanine, L- Arginine, BCAAs 4:3:3 (Leucine, Isoleucine, Valine), L-Taurine, Guarana (Caffeine), Citric Acid, L-Tyrosine, Silicon Dioxide, Natural Sweetener (Stevia).