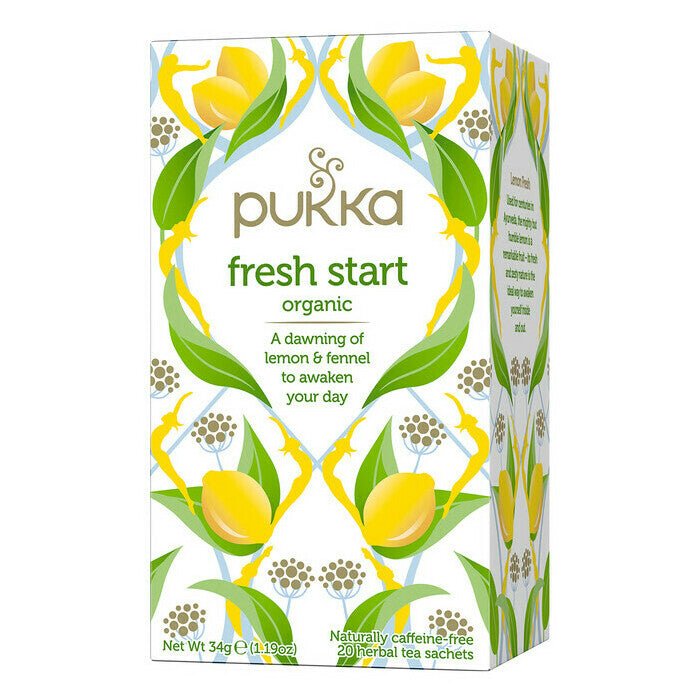 Pukka Organic Tea Fresh Start
Original price
$8.95
-
Original price
$8.95
Awaken the senses with the uplifting fragrance of Lemon. Fresh Start tea by Pukka is an energising blend of Lemongrass, Whole Lemon, Lemon Vana Tulsi, Sweet Fennel and Coriander. The perfect complement to an early morning sunrise, Fresh Start tea can bring light to your dawn and vitality to your mornings.
This tea is naturally caffeine-free, ethically sourced and made with 100% organically grown ingredients.
Made in the UK. Certified Carbon Neutral & Ethically sourced, biodegradable teabags.
Certified Organic. Gluten free. Vegan.
Ingredients:
Lemon
Lemongrass Leaf, Sweet Fennel Seed (32%), Lemon Whole (12.5%), Coriander Seed, Lemon Essential Oil Flavour (5.5%), Lemon vana Tulsi Leaf, Lemongrass Essential Oil Flavour.
How to Use:
To help the flavours to fully disperse, pour boiling water directly on the bag. Every herb loves the water, so leave them to steep for the perfect brew. And remember to boil just the amount of water you need to make your cuppa as environmentally friendly as it can be.