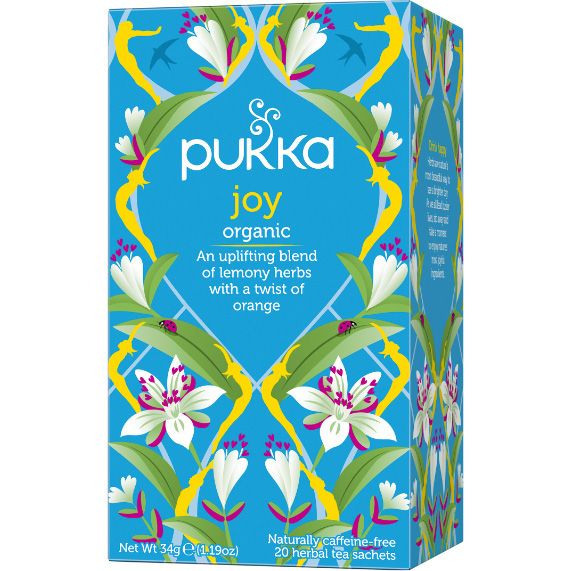 Pukka Organic Tea Joy
Original price
$8.95
-
Original price
$8.95
An uplifting blend to naturally support everyday happiness and boost mood.
Introducing our new organic herbal tea - Joy - an uplifting blend of lemony herbs with a twist of orange to naturally support everyday happiness and boost mood.
Joy has been expertly blended by practicing herbalist and Pukka Co-Founder, Sebastian Pole, using natural, 100% organic and ethically sourced plants. Luscious lemon balm, lemongrass, and citrusy orange uplift, whilst licorice and rose comfort and support; and calming lavender and lemon verbena help to relax.
Master Herbsmith Sebastian Pole says:
"Small lifestyle shifts can have a transformative effect on health and happiness, such as introducing moments of joy and calm every day. Actions could include a yoga practice, short walk, call with a friend, breathing mindfully or taking a moment to enjoy a cup of herbal tea blended with naturally uplifting and supportive plants. Joy is a great addition to your everyday toolkit made up of natural ways to help lift your spirits and support everyday happiness."
Nature's finest organic ingredients to help you enjoy a brighter day:
Lemon Balm – Packed with essential oils to boost mood and promote clear thinking.
Orange – A zesty, uplifting and fragrant fruit. In aromatherapy, citrus essential oils are used to enhance mood.
Lemongrass - An uplifting tonic that supports the digestion and nervous system. When used in a clinical study, lemongrass aroma reduced anxiety.
Lemon Vana Tulsi - A relative of holy basil, which is expected to share mood uplifting and anti-anxiety effects. When used in clinical trials, tulsi improved the symptoms of stress (such as exhaustion and sleep problems), anxiety and low mood.
Bergamot – An uplifting essential oil with anxiety-reducing effects.
Licorice Root – A perfect plant for stressful modern-day living. Licorice is naturally sweet and is traditionally used for rejuvenation and nourishing the nervous system.
Rose - A herb traditionally used to uplift and support emotional wellbeing. Rose extract is known by herbalists as a 'hug in a bottle' due to its mood-lifting effects.
Lavender – A herb well known for its calming effects, with its relaxing essential oils.
Lemon Verbena – Clinical evidence supports the use of both lavender and lemon verbena in reducing anxiety.
Sustainable packaging
Like all Pukka teas, Joy is in recyclable sachet and tea box (made with FSC certified card and printed using vegetable-based inks) and the teabags are home compostable.