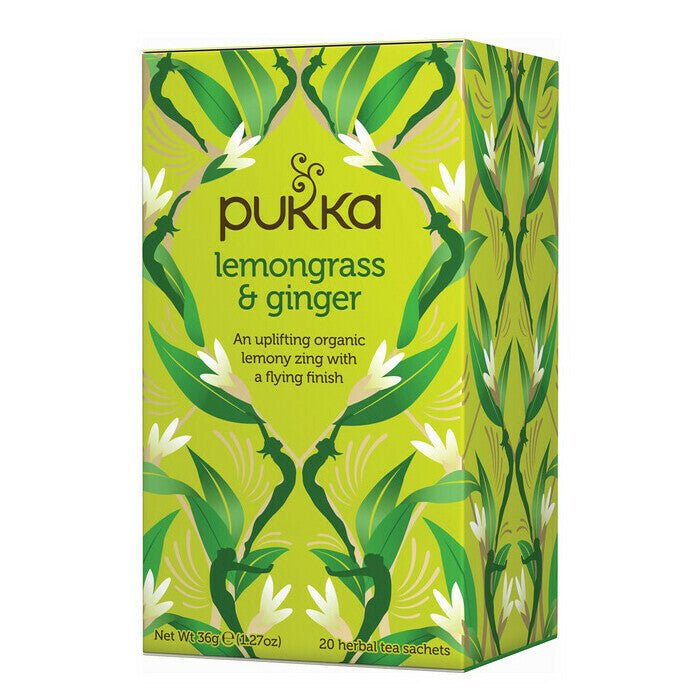 Pukka Organic Tea Lemongrass & Ginger
Original price
$8.95
-
Original price
$8.95
Good news for uplifting and refreshing your day.

Made with organic ginger, lemon verbena, lemongrass and licorice. One sip and you're ready to soar, take to the sky in a swirl of lemony freshness. Naturally caffeine free, ethically sourced, 100% organically grown ingredients.
Real riches are within. Life's most precious gifts are right here for you to enjoy; the finest sweet swirls of licorice root lavishly speckled with cinnamon's golden warmth - this is a cup to make anyone feel wealthy. Go for gold.
Every Pukka plastic-free tea bag comes in its own recyclable envelope to retain the essential oils in our organic herbs. Each bag has two chambers, allowing these incredible herbs to flow and release the full potency in your cup. To help the flavours to fully disperse, pour boiling water directly on the bag. Every herb loves the water, so leave them to steep for the perfect brew. And remember to boil just the amount of water you need to make your cuppa as environmentally-friendly as it can be.

Ingredients: Lemongrass (44%), lemon verbena leaf, licorice root, ginger root (28%), amla fruit, lemongrass extract.