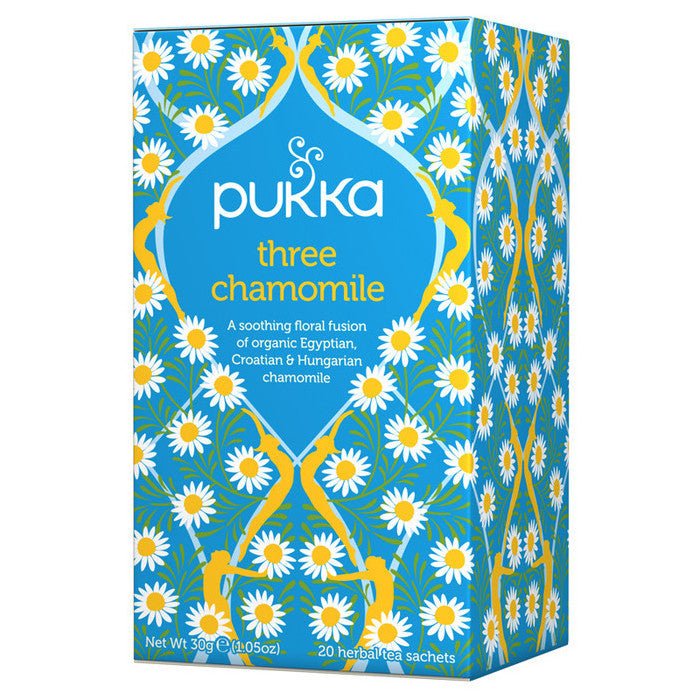 Pukka Organic Tea Three Chamomile
Original price
$8.95
-
Original price
$8.95
Good news for a calm moment, let flowers of relaxation fill your cup.
Made with organic hand-picked daisy-like blossoms of chamomile that are blended and gently crushed. A chamomile tea that will bring a wave of tranquillity to your soul. Naturally caffeine free and ethically sourced, 100% organically grown ingredients.
Let flowers of peace fill your cup. A perfect combination of three types of organic chamomile: African, Egyptian and European flowers. Hand-picked daisy-like blossoms are blended and gently crushed to create delicate chamomile tea that will bring a wave of tranquillity to your soul. Add warm water and leave to slowly infuse at your own pace. Then let the floral joy of chamomile restore your inner peace. Life is calmer now.
Every Pukka plastic-free tea bag comes in its own recyclable envelope to retain the essential oils in our organic herbs. Each bag has two chambers, allowing these incredible herbs to flow and release the full potency in your cup. To help the flavours to fully disperse, pour boiling water directly on the bag. Every herb loves the water, so leave them to steep for the perfect brew. And remember to boil just the amount of water you need to make your cuppa as environmentally-friendly as it can be.

Ingredients: African Chamomile Flower (70%) (Yellow Florets and Flower Heads), Egyptian Chamomile Flower (20%), European Chamomile Flower (10%).