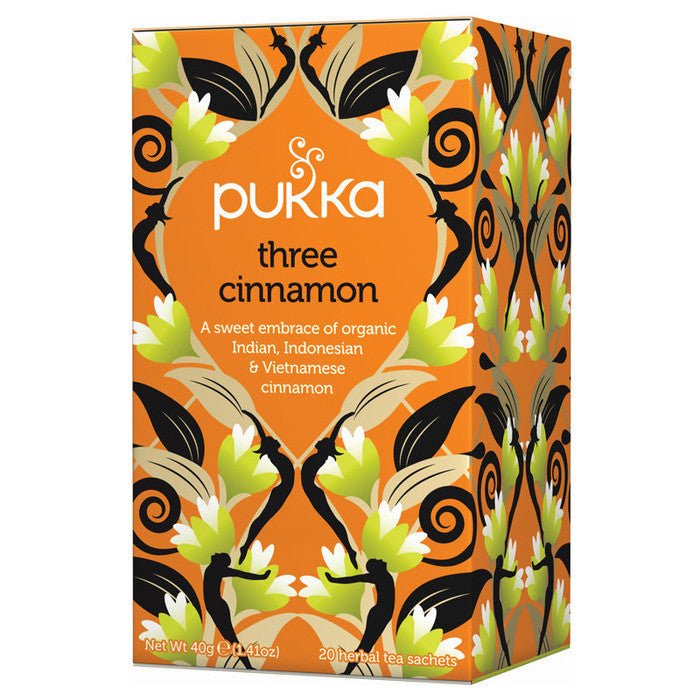 Pukka Organic Tea Three Cinnamon
Original price
$8.95
-
Original price
$8.95
Good news for filling yourself with sunshine.
Made with organic cinnamon from Indonesia, Vietnam and India. This tea captures the swirling glow of cinnamon - nature's suntrap. Naturally caffeine free and ethically sourced, 100% organically grown ingredients.


The sun has all the energy. Cinnamon is nature's suntrap. Bask in the spicy sweet-heat of the world's finest three cinnamons and feel her warm embrace filling you with life. Enjoy the warmth.
Every Pukka plastic-free tea bag comes in its own recyclable envelope to retain the essential oils in our organic herbs. Each bag has two chambers, allowing these incredible herbs to flow and release the full potency in your cup. To help the flavours to fully disperse, pour boiling water directly on the bag. Every herb loves the water, so leave them to steep for the perfect brew. And remember to boil just the amount of water you need to make your cuppa as environmentally-friendly as it can be.

Ingredients: Vietnamese cinnamon bark (60%), Indonesian cinnamon bark (16%), licorice, Indian cinnamon bark (10%).