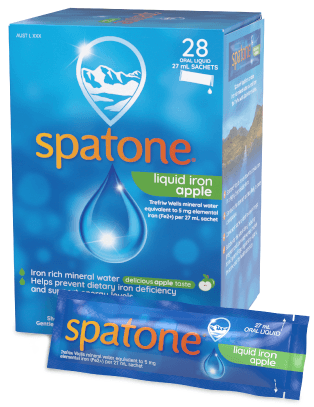 Spatone Apple 28 Sachets
Original price
$42.25
-
Original price
$42.25
Spatone® liquid iron – apple® contains naturally occurring, iron-rich water from the mountains of Snowdonia, Wales with added apple concentrate. Iron helps support a healthy immune system and maintain energy levels.
Delicious apple taste
Gentle on the stomach
Easily absorbed
Convenient to use, single-dose sachets
Suitable for all the family (aged 2+) including pregnant women.

No matter what kind of busy lifestyle you have, your body needs oxygen and energy to stay on top of things. And this is where iron comes in. Iron helps the normal release of energy from the food you eat and it helps reduce tiredness and fatigue. Iron also supports normal oxygen transport in the body, contributes to normal function of the immune system and normal cognitive function.
Do you have the energy you need to stay on top of your day? Sometimes, even with a healthy diet, we don't get all the iron we need to maintain our energy levels. Spatone® Original liquid iron is a great way to top up your iron levels, helping maintain your normal energy levels. The iron in Spatone® contributes to normal energy-yielding metabolism and helps reduce tiredness and fatigue.