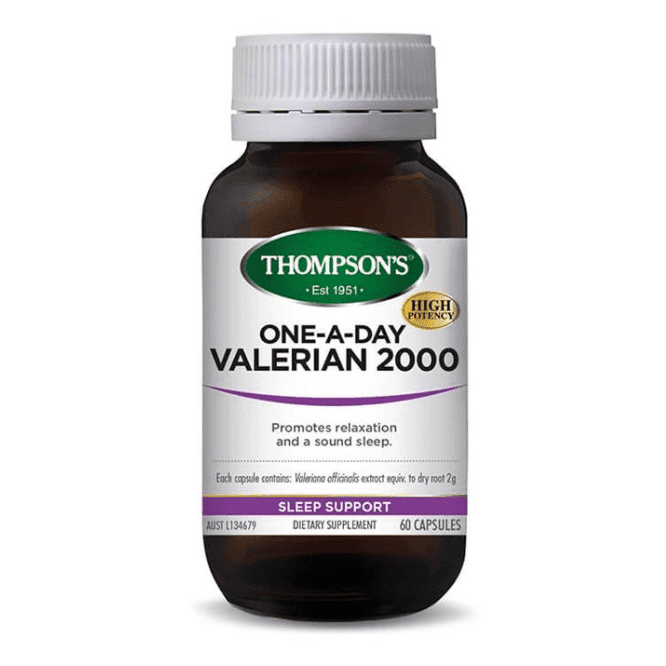 Thompson's One-A-Day Valerian 2000 60 Capsules
Original price
$49.95
-
Original price
$49.95
Thompsons One-A-Day Valerian contains a high strength valerian extract formulated for convenience with a One-A-Day dose. It is used in traditional Western herbal medicine to:
Relieve sleeplessness and disturbed restless sleep
Relieve symptoms of stress
Decrease nervous tension and relieve symptoms of mild anxiety
Reduce restlessness and excess nervous energy
Antispasmodic; relieves abdominal and/or digestive spasms
Suitable for
Individuals who suffer from or prone to sleeplessness 
Those struggling to fall asleep 
Individuals who suffer from poor quality sleep 
Those seeking feelings of calmness and relaxation 
Individuals who suffer from or prone to nervous tension and stress 
Those who suffer from muscular cramps and spasms 
Adults – Take one capsule daily (with food). This can be increased to two capsules daily or as professionally advised
Storage: Store below 30°C in a dry place
No added
Gluten, lactose, nuts, shellfish, dairy, egg, fish, sesame seeds, soya beans. No artificial colours, flavours or preservatives. Vegetarian/Vegan friendly.