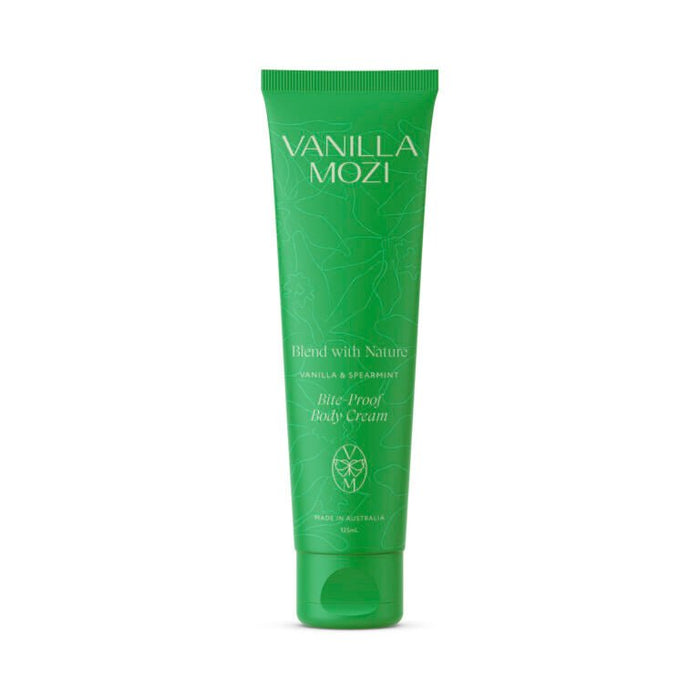 Vanilla Mozi
Original price
$29.95
-
Original price
$29.95
Biting Inspects No More!
Vanilla Mozi is a natural, beautifully scented body cream & our absolute favourite anti-inspect, repelling cream safe for everyone in your family.
What is it?
A beautiful, moisturising body cream that will protect you and your family from biting bugs and insects such as mosquitos, midgees, and sandflies without being a repellent.
How does it work?
We've harnessed natural plant and flower extracts (think sweet Vanilla and fresh Spearmint) in this formula, and when applied to your skin it helps mask your scent. This tricks insects into sensing that you're a flower instead of their next meal ticket. No chemicals are spritzed, no bugs are harmed, and you'll become bite-proof. It's a win-win! Think of this product as a veil, and definitely not a repellent because that would mean our formula contains harmful pesticide ingredients. Our cream is packed with nothing but lush plant oils, butters, waxes, and essential oils that will leave your skin feeling soft and supple.
Why you'll love it:
You care about the products and ingredients that you apply to the skin on your face, and we think the same goes for your body and your approach to insect protection. This nourishing moisturiser will mean you can ditch the toxic sprays and roll-ons, we've got one word for those guys: nasty. Our cream is for the conscious consumer, who considers their environment and cares about the chemicals we leave behind us at the end of the day.
Usage and directions:
Apply as the last step in your routine (after SPF), and as you would your moisturiser. Ensure you cover all exposed skin, and for best results reapply every 2 hours (minimum). Vanilla Mozi has been designed for sensitive skin and all ages. It is safe for the whole family, including breastfeeding mothers and babies. We recommend that you do a patch test prior to use.
It's the perfect secret weapon for mothers during mozi season and campers will fall in love with this cream. If you're a 'mozi magnet' then we recommend this as your new daily moisturiser. It can also be applied before bed to ensure you're protected overnight.