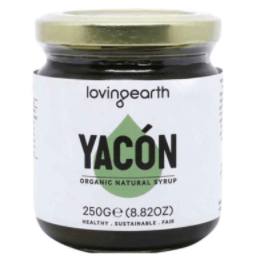 Yacon Syrup (250g)
Original price
$30.65
-
Original price
$30.65
Yacon syrup is a sweetener derived from the roots of the yacon plant. It is particularly low GI  due to the slow release of its long-chain sugars. Yacon also acts as a prebiotic, passing through to the intestine where it feeds the body's good bacteria, such as L. acidophilus and B. bifidum. In this way, yacon helps the digestive system function effectively to eliminate toxins and enhance the immune system. 
INGREDIENTS: 
Yacon syrup* Certified organic* 
SERVING SUGGESTION: 
Add 1 teaspoon to your favourite smoothie, yoghurt or dessert. It can also be used as a sweetener.